Breakfast with Laurie Acar Levi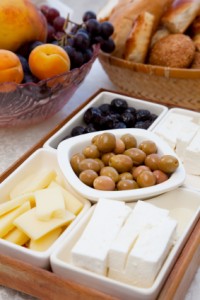 I spent last Saturday walking around Forest Hills, my hometown; I hadn't been back for thirty years. On my way out of town, we drove over to my grade school, which I hadn't visited since 1975. Tucked back from the noise and traffic of Queens, it's a lovely little jewel box; the visit made me think of all the people I knew there, and those I've lost touch with.
But one person I have recently been back in touch with is Laurie Acar Levi; one of my oldest schoolmates, we met in kindergarten and went straight through grade school, middle school, high school, and, as it turns out, college, together. Laurie was one of those people who was just far too cool for the likes of me, so when we found each other on Facebook, I was delighted. I was also surprised: ever the cool kid, Laurie now lives in one of my favorite cities on earth—Istanbul—with her husband and sons.
I remembered the breakfasts that I ate back in 1999, when I visited Istanbul with my cousins; there were plates of cheese, small bowls of olives, yogurt, honey, fruit, and strong tea. The food was beautiful, bright, and unfettered; everything that real eastern Mediterranean food is. Recently, I asked her about breakfast; here's what she had to say.
Breakfast, they say, is the most important meal of the day.  For some, this meal evokes such profound memories that the mere thought of homemade waffles, frying bacon or percolated coffee can coax a tear.  As the only child of working parents, the breakfast of my childhood was strictly a matter of convenience; cold cereal during the week and perhaps French toast or scrambled eggs on the weekend.  My parents, true to their European heritages, preferred cheese for breakfast.  My father's weekly outings to the gourmet food store remain vivid in my mind, but the resulting purchase never materialized into anything more interesting than a slice of toast with a smear of butter and a couple of slices of cheese.  Not terribly important in either the nutritional or emotional scheme of things.
Fast forward and the aforementioned Fruit Loop junkie is living in Istanbul, where food is serious business (and waffles, assembled with your choice of toppings, are sold on the street as a snack).  Anyone who's ever ventured to Turkey knows that Turkish cuisine is famous for tables laden with various plates of colorful appetizers, known as meze.  Less renowned perhaps, but equally crowded, is the Turkish breakfast table.
The typical Turkish breakfast begins with a basket of soft and crusty fresh bread accompanied by simit, a sesame-encrusted cross between a bagel and a pretzel that many a Turk will claim is the forefather of either or both.  Spread around the table will be small plates (usually rectangular) each of: fresh tomato wedges, generally peeled and baby cucumber spears, generally not entirely peeled and thus provocatively striped.  Breakfast in Turkey without olives just isn't breakfast; always present are the slightly wrinkled black variety and sometimes the green as well.  Next comes a healthy portion of white cheese (closest, my father claims, to the Bulgarian feta available in NY's gourmet food stores), which is fairly dense, and often sliced into wedges. All of the above items may be adorned by a combination of oregano, red pepper flakes and/or drizzle of olive oil.  A second variety of cheese, ka§ar, is so versatile that it can range, depending on its age, from sharp and peppery, like Parmigiano, to mild and buttery, like American cheese.
Savory? Check!
But it's not over yet, as the Turkish breakfast table invariably offers equal time for the sweet tooth.  Alongside the salty stuff, you'll find at least one variety of jam, most likely sour cherry, honey (often on the honey comb) and kaymak. Kaymak is the crème de la crème, Turkey's version of clotted cream; this is the stuff of which heart attacks are made.  It's also the critical ingredient that makes outrageously sweet Turkish desserts tolerable for those over the age of 12.  At breakfast, its color and flavor provide a compelling balance to the brightness of the jam and the sweetness of the honey.
Finally, strong Turkish tea, or çay, makes its first appearance at the breakfast table and continues all day long, served in a delicate and shapely thin glass vessel.
Afiyet olsun.