Breakfast with Carol Penn-Romine
Carol Penn-Romine and I met at the 2010 Symposium for Food Writers at the Greenbrier in West Virginia, where we were surrounded by large quantities of eggs and pork products for breakfast every morning. As a panelist, I had the opportunity to meet a lot of extremely talented attendees, and Carol, who was awarded the Greenbrier's Apicius Scholarship (for prose that rings with a clear voice and reflects the joys of the table), was among them. An editor of two editions of Edible Los Angeles and creator of The Hungry Passport, Carol recently responded to my inquiry about her relationship with breakfast by sending along the following bit of extremely delicious reading.
Sometimes I think it would be worth performing hard physical labor just so I could continue eating the breakfast of my youth. Each day on our Tennessee farm began with cereal and juice, followed by homegrown and cured bacon, eggs produced by our own hens, toast slathered with homemade preserves and whole milk. All of my family ate at the table together, and we all ate the same thing—"kid chow" was an unknown concept—before heading off to school and work.
My favorite take on breakfast during my childhood was what I called "wet toast and an egg that falls down in the middle." My mother knew exactly what this meant, so when I requested it, she would spread a generous amount of butter onto a slice of bread and heat it in the oven, just until the bread was warm and the butter melted. Wet toast! And she'd cook an egg over medium, one that fell down in the middle when I speared it with my fork. While I loved the sound of "sunny-side up," which I'd heard sophisticated people order on television, egg that was even partially raw would never be served in our house. An egg that fell down in the middle was plenty exotic for me, especially when everyone else was having theirs scrambled, which was just too untidy for my sensibilities.
Why did I like my toast wet and my egg gravity susceptible? Comfort was surely a factor with the toast. Scraping the roof of my mouth on a piece of toasted bread with sharp edges is just as unpleasant now as it was when I was a kid. Gently toasted bread is much kinder, and the appeal of bread softened with butter was undeniable. In spite of my considerable sweet tooth, I liked it even more than I did toast loaded with jam.
As for my desire to have a collapsing egg yolk in the middle of my breakfast, it might have been due to the ambivalent relationship I had with yolks as a child. At that time I still hadn't come to appreciate the kind of mouth-coating richness an egg yolk offered. Sometimes I trimmed nibbles of the white from around the yolk, ate them and left the yolk untouched (winning some imaginary contest each time I succeeded at exposing the yolk without breaking it), while at others I ate at least a bit of the yolk. Maybe that was all I really wanted—the freedom to say yea or nay to something.
But what goes through the mind of a child staring at a plate of food? Certainly opinions regarding texture—coconut, pulpy orange juice and chunky peanut butter were all problematic. Texture includes flow, and flow was okay. That's what melted ice cream does. But ooze? That's what an egg yolk does when you make like a Facebooker and poke it. Ooze was not cool, except to play with. Maybe I was more interested in egg yolk as a study in gravity and flow than as a component of my meal. I admit it—while I seldom ate the yolk, I always played with it.
Now I'm a grown-up, a city gal living in Los Angeles (at least my driver's license tells me both of these things are true). No matter what my day brings—or how inspired I get at the gym—nothing I do warrants eating a farm breakfast. While writing this essay I decided to make wet toast and an egg that falls down in the middle, the first time I've had this combo since I lost the rest of my baby teeth. I had it without the accompanying bacon, so that I could focus on the components of breakfast that were so important to me back then. It was fun to revisit, but it no longer holds its appeal. That's fine. As an adult, I feel that bacon trumps every other food, and I allow myself bacon—the really good stuff—whenever I can. Each time  I go back home, I cram my suitcase with as much bacon, ham, hog jowls and cracklins as I can and try to make it last until the next trip to Tennessee.
I've decided that if I can't have homemade bacon every day, I may as well forego the rest of the traditional breakfast and have something entirely different. And it really should be healthy. Now that I'm old enough to worry about things like cholesterol and blood pressure, I'm also old enough to fix my own breakfast. It's fun experimenting with ingredients and learning how to make myself a breakfast that's healthy but that also satisfies my demand for an abundance of flavor.
One of my happiest discoveries has been cardamom, and I've had great fun playing with it while making both sweet and savory foods. Each time I open the jar, I swoon from its rich, heady fragrance. It's one of those spices that's evocative of places as remote and exotic as I ever could have imagined as a youngster flipping through the pages of the latest issue of National Geographic

.
Out of my experimenting with this spice I've devised a recipe for what I call Apricardamom Oatmeal. It's my own take on oatmeal that includes dried apricots, cardamom, honey and pistachios. This blend of flavors and textures intrigues my palate. It doesn't diminish my yearning for bacon, but it delights me with its own personality and scores points with my doctor.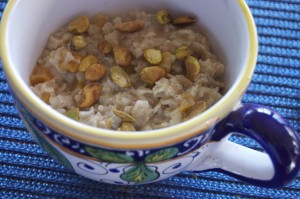 Apricardamom Oatmeal
This recipe makes enough hot cereal for one person who plans to work in the garden or for two who would rather sit in the garden and read.
1¾ cups water
2 Tbsp. honey, or to taste
the barest pinch of salt
1 cup rolled oats
¼ tsp. ground cardamom, or to taste
6-8 dried apricots, medium dice
2 Tbsp. pistachios, toasted lightly
Bring water, honey and salt to a boil and add oats. Cook over medium heat, stirring occasionally. When they're almost completely hydrated and the water cooked has out, add the apricots and cardamom and finish cooking (this prevents the apricots from becoming mushy and helps the cardamom adhere to the food—not to the pot). When the oats are cooked to your liking, pour into a bowl and top with the toasted pistachios. Enjoy with a large glass of milk, whole milk if your doctor will allow it.
(For a rich winter treat, I toast the oats before cooking and sweeten them with chestnut honey.)
To find out what Carol enjoys when she's not obsessing over bacon, please check out her blog at www.hungrypassport.com.