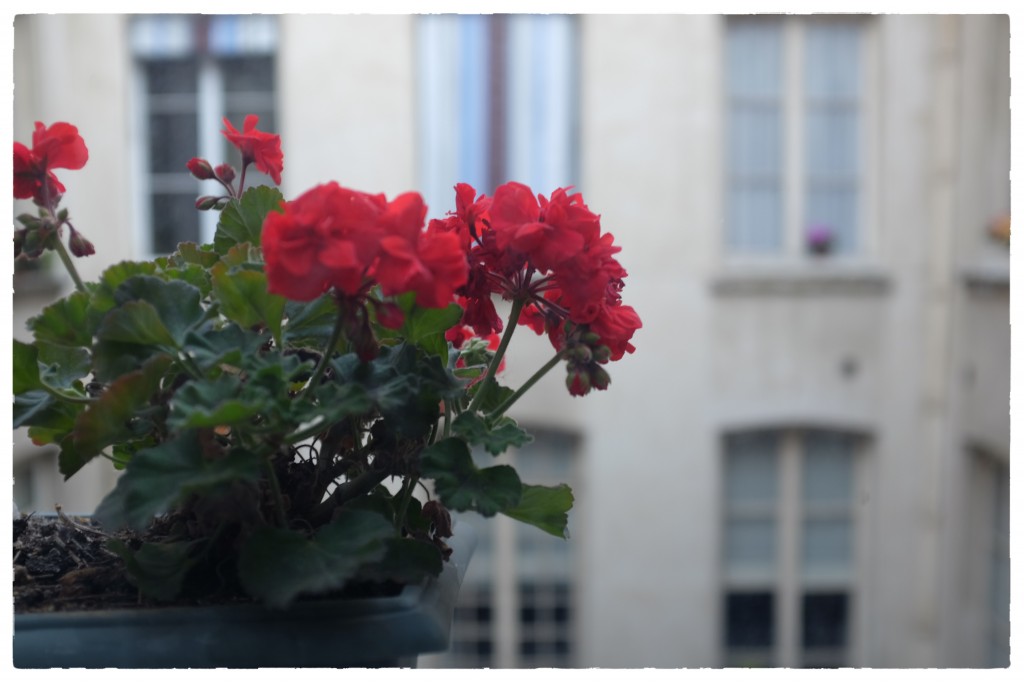 I wanted to go to Paris to look, and to see with intent; I wanted to travel small and not be bogged down by expectation or fashion, culinary or otherwise. I wanted to go to Paris simply to be, and to walk it end to end.
Susan and I got back a little while ago — we spent a week there, and then went on to London. It was a trip long-planned and long talked-about, but for years, there were always circumstances that prevented us from going: family issues, illness, work, money, and time all conspired against us. We've traveled a lot in the decade and a half we've been together: we've been to Italy, twice; Nashville; Colorado; New Mexico; San Francisco. Susan flew out to California last year, where my book tour started, and accompanied me to Portland, Seattle, and Ann Arbor (which was actually work, although some folks adamantly refused to believe that that was the case; I challenge them to go to 13 cities in 13 days while also holding down a full-time job for which you have to call in daily and continue to meet your deadlines, and then we'll talk); we regularly go to Michigan where my family lives; we used to spend a lot of time in Florida; and over the last few years, we've visited the Bay Area many times— Marin now sometimes feels like our home away from home, even though it will likely be a long time before we get there permanently (a now-not-so-secret dream).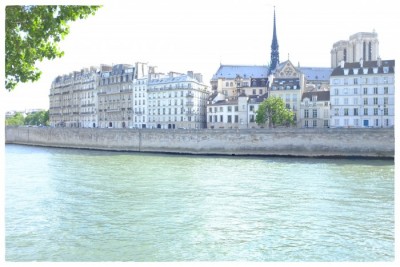 But all this time, Paris has sort of just dangled there like Tantalus's grapes: just out of reach for some peculiar reason, and not on our psychic travel map. I say peculiar because, let's face it, people these days think nothing of hopping on a plane and flying over to Da Nang for a week, or to Burma to go hiking. Paris sometimes feel so — I don't know — so trite. Even though it's anything but, of course. Anyone who has ever been to Paris knows that a stroll around the Luxembourg Gardens on a warm spring afternoon in May can recalibrate even the most hideous state of mind, and that the French grandmother who decided, eons ago, to wrap a small piece of chocolate in a fresh, steaming croissant and give it to her cranky grandson as an after-school snack should have won a genius grant.
But there's also the issue that Paris sometimes, in all its beauty, can be more than awe-inspiring: it can often be terrifying. It's so breathtaking and is so wrapped up in cultural idiosyncrasy — the city and its inhabitants are a mass of raging contradiction — that it's easy to get overwhelmed and to just shut down behind the biggest sunglasses you can find, the way I did the last time I was there, in 1985.
I went to Paris alone, after graduation from college; my mother insisted that, as a solo traveler and a woman, I had to go on a tour. I loathe tours. There are no words for exactly how very much I loathe tours. But I agreed, to placate her, and spent the entire trip marching around the city wearing huge Terry Bradshaw-sized shoulder pads in my mauve Benetton sweaters, glowering behind my gigantic black Wayfarers and being youthfully, obnoxiously antisocial, except for an abbreviated and extremely misguided alignment with the only other person in the group who was under 70: a wan, straw-haired young man from Albuquerque who dumped his mother, with whom he was traveling, in order to take up with me. [Bad idea, across the board.] All these years later, I couldn't pick him out of a lineup.
After I got that out of my system, I spent the week doing the other things that I thought I was supposed to do: buying a baguette and eating it while sitting in a park, by myself. Trying to see the Mona Lisa over the heads of a huge passel of Japanese tourists, by myself. Taking the bus to Versailles and walking around, by myself. Drinking a cup of coffee for two hours in a tourist cafe, by myself. Looking serious and dour, and, I thought, very French. By myself.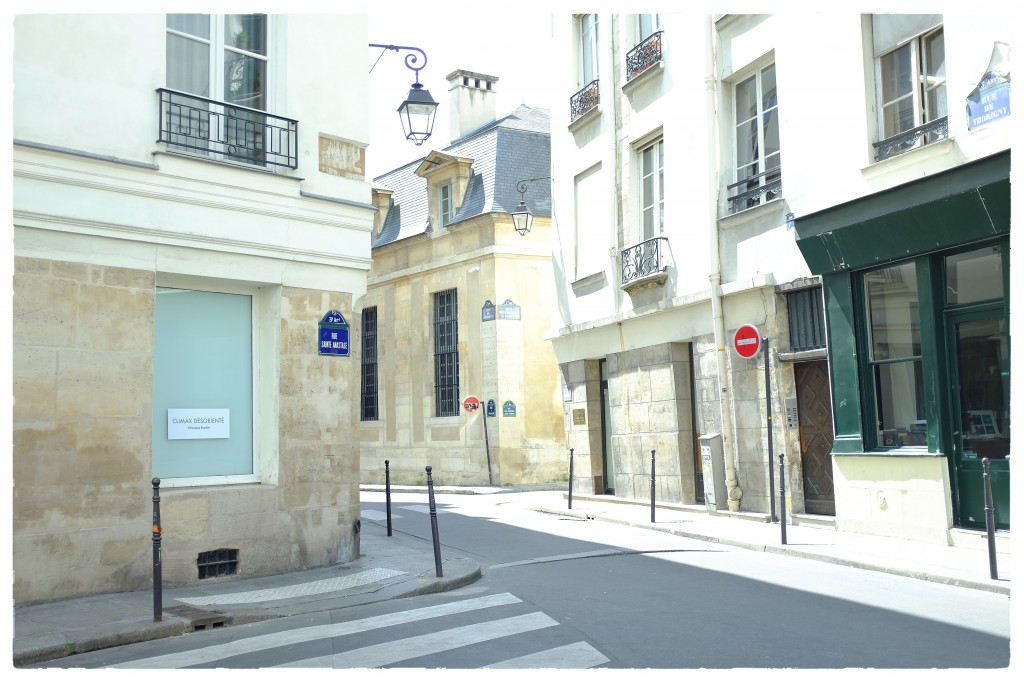 How was Paris, my father asked excitedly when I walked through the arrivals gate at JFK a week later. Did you love it?
I don't know, I said, bleakly.
And really, I didn't.
Beyond my visits to the Louvre, Versailles, my endless cup of coffee, and my tryst with a man whose mother made it a point to follow us down the Champs Elysees while wearing a red plastic rain poncho over her enormous fanny pack so that we wouldn't recognize her — well, let's just say that I didn't know if I liked Paris. I didn't know anything about Paris.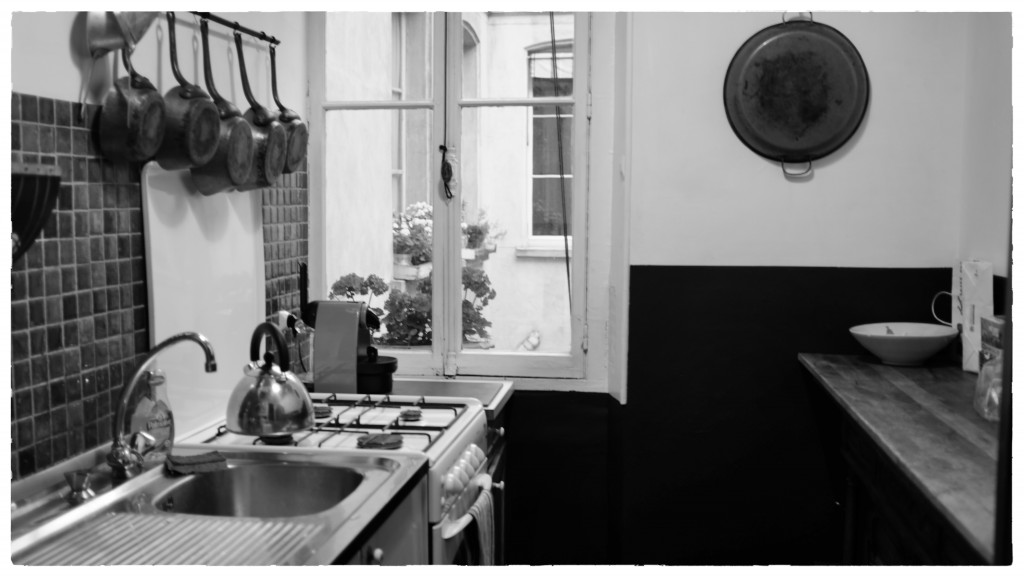 So, after 29 years, it was time to travel to Paris with someone I love, and try, in a short time, to understand whether I liked the city and it liked me back, and whether I would return again and again with Susan, for longer periods of time. We both wanted to travel small — literally; one carry-on and a shoulder bag each. But small also meant other things: we didn't bother making big, fancy, trendy dinner reservations. I took one camera, my Fuji X-100S, which feels like it's made for my hands, and Susan took her old, pancake-lensed Nikon SLR.  We rented a small apartment owned by one of my all-time favorite food writer/chefs; it wasn't in the hippest, coolest section of town (now widely thought to be the 10th Arrondissement), but it was absolutely perfect for us and when the light poured in through the living room windows on our first morning there, we swooned.
The kitchen was small by American standards, but ideal for us. We cooked a little bit every day, and we had a few meals out with friends: a lovely dinner with a wonderful man and writer who might know more about Paris restaurants than any other person I've ever met, Alec Lobrano and his partner, and lunch with the incredible cookbook author who might know more about Paris pastry — any pastry, actually — than anyone else on earth, Dorie Greenspan, and her husband. Every day, we got up late, had breakfast at the long dining room table in the apartment, decided what we'd do, and just strolled, and looked; dinner, apart from the few evenings we went out, was always simple, and small.
The first night we were there, shortly after we arrived — plane-disheveled and flatly exhausted — we walked over to the Monoprix and bought a local, pastured chicken — imagine that, in your neighborhood grocery store — that weighed a hair under two pounds, unlike the Volkwagen-sized winged behemoths that we find in the States. French chickens are petite; they force contemplation. They're tender and pale, and you instantly want to do well by them. They're not meant to be foamed or centrifuged or turned into snow with the application of maltodextrin; they're not meant to be pounded or furiously stuffed or man-handled in any way. We patted ours down with a little bit of butter, salt and pepper, and carefully tucked some fresh herbs under the skin. Because we weren't yet sure about the oven (it being our first night there), we butterflied and pan-roasted it in a stove-top grill pan like the one I have at home in my own kitchen, weighing it down with one of the ancient copper Windsor pans that hung on the wall next to the kitchen window. It tasted small and good and chicken-y.
Like an actual chicken.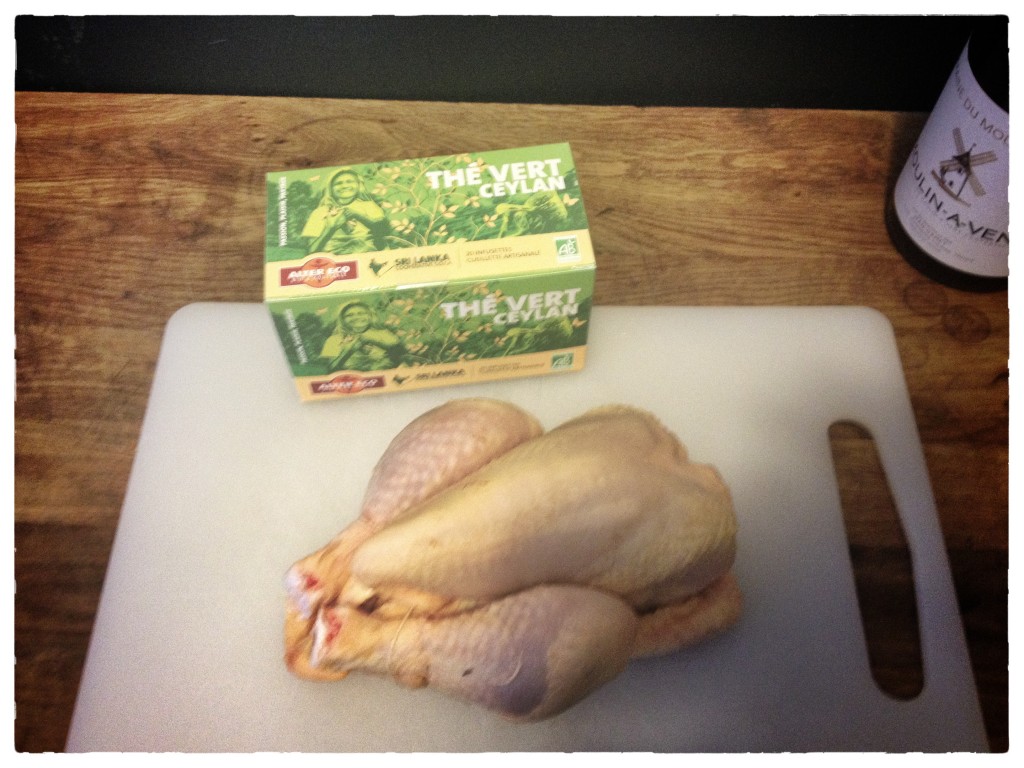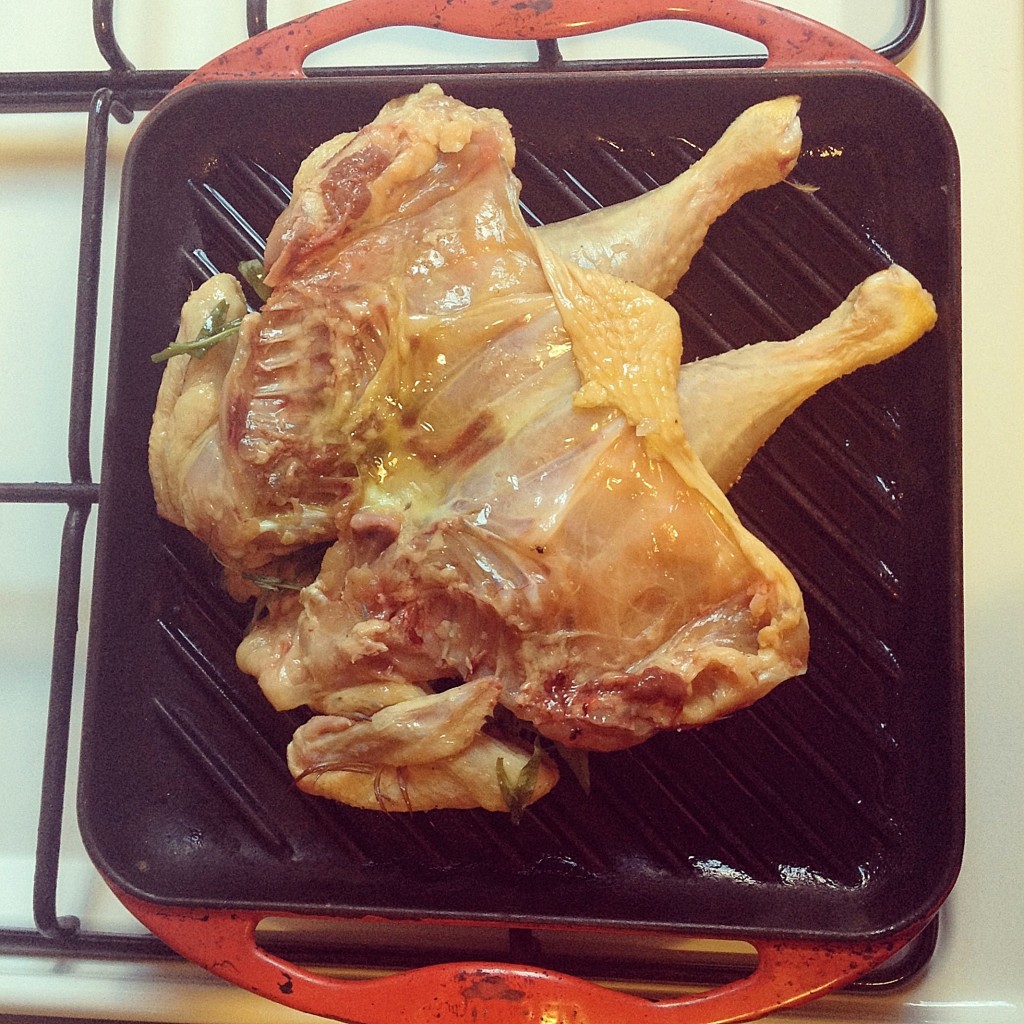 And so this small chicken launched my takeaway of Paris, and this is what I learned, both incongruously and not: that the three knives hanging on the magnetic strip next to the kitchen armoire (which held some lovely spices) were enough. I didn't really need 28 of them, which is how many I have at home. I didn't really need 18 pots and pans to accomplish a simple dish or two — maybe just a few skillets of varying sizes, or a couple of saucepans, or a not-bathtub-sized soup pot. We drank our wine — rose, white, or red — out of the same small, stackable, onionskin-thin Bodega tumblers. I didn't really need a red wine glass and a white wine glass and a water glass and a snifter. The refrigerator, which was the sort that's tucked under the counter, was perfect in its smallness. We really didn't need anything bigger and in Paris you mostly don't, because there are outdoor markets every single day and invariably you'll pass one, you'll buy what's fresh, and you'll cook it that night without fuss or fury because it'll be so fresh that the less you do to it, the better. The expensive, jewelbox chocolatiers who dot the city are lovely, but the bag of orangettes that you'll buy for a few euros at Izrael in the Marais will take your breath away, and you'll dream about them for weeks to come, even though you have no sweet tooth.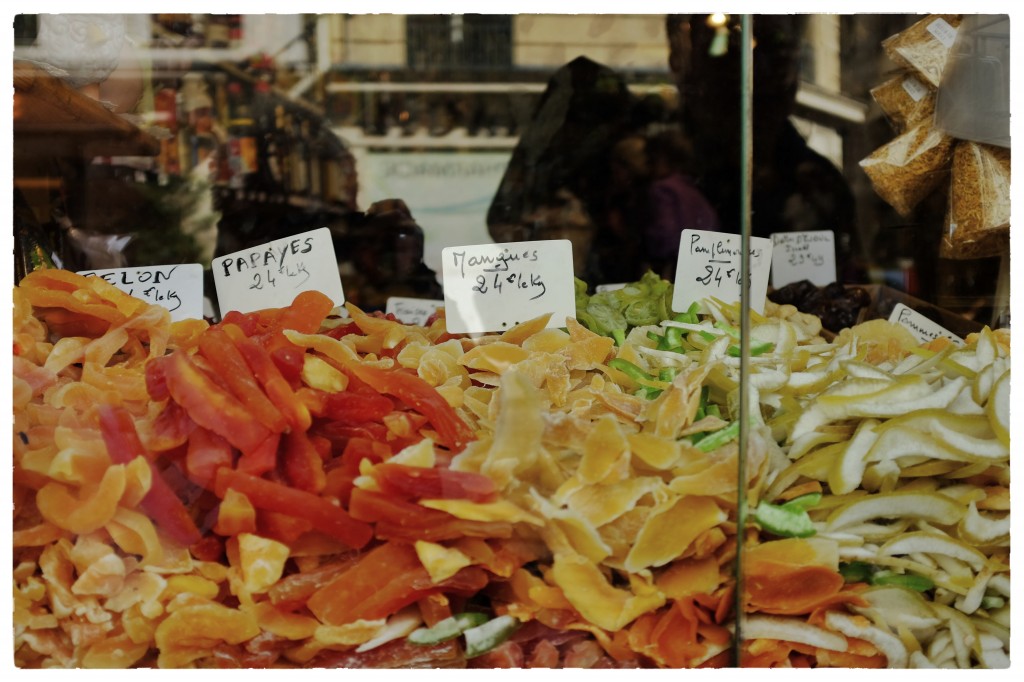 So, without the heavy psychic baggage added by fretting — what we were and weren't supposed to cook; where we were and weren't supposed to eat; what we were and weren't supposed to wear; where we were and weren't supposed to stay; what we were and weren't supposed to see and where we were and weren't supposed to be seen — we were freed up to be in Paris together, to relax and to read, to walk, and to look. The smaller we traveled, the more Paris gave to us, and the more we took in.
Yes Papa, wherever you are. I loved it.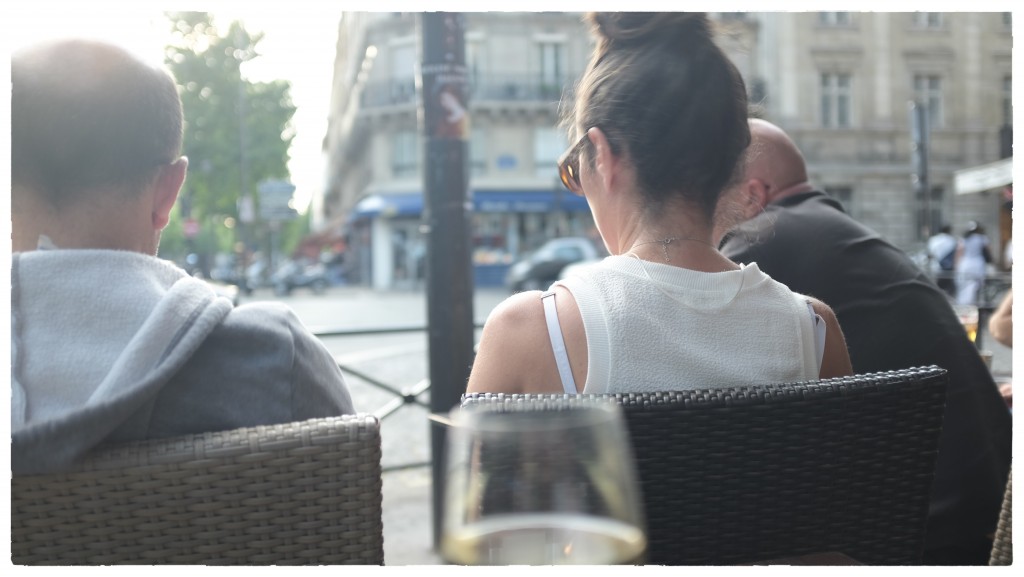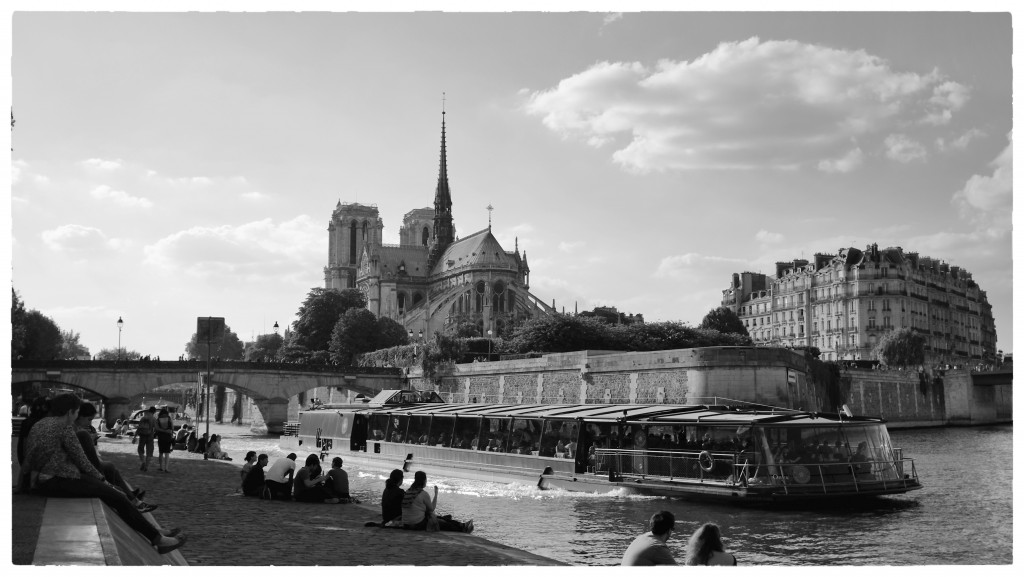 Stove-Top, Grill-Roasted Chicken
I've done enough traveling in Europe — and house-renting — to know that sometimes, it's just easier to pull out whatever heavyweight pan might be handy, slick it with a little olive oil or butter, and do your cooking directly on top of the stove instead of in the oven (although I've been lucky enough to rent places where the ovens have all been perfect, including my friends' in Paris). Whether you're dealing with a squab, a guinea fowl, or (as I was) a small chicken, snip out the backbone with some shears, flatten the bird, sprinkle it with salt, and pepper, gently loosen the skin and tuck some fresh herbs beneath the it. Rub it with some softened sweet butter, let it stand at room temperature for about half an hour (if it's just come out of the fridge, you'll want to let it stand longer), heat up your (heavyweight) pan, and roast the bird, skin-side down, weighing it down with something heavy (a cast iron or copper pan. Not a dictionary.). Serve with a small green salad and a glass of wine, and you're done.
Serves 2-3, or, if you're a French grandmother, 12
1 2-pound chicken, the freshest you can find, at room temperature
Fresh rosemary or thyme sprigs
sea salt
freshly ground black pepper
unsalted butter
Turn the bird upside down and snip out the backbone; discard or reserve for stock. Gently loosen the breast and leg skin, using your fingers. Tuck the herb sprigs between the skin and the flesh, sprinkle the whole bird liberally with salt and black pepper, cover loosely with foil, and set aside for half an hour. Massage on both sides with a tablespoon or two of unsalted butter.
Open your windows; heat a heavy pan over a medium flame until it just begins to smoke; place the bird, skin-side down, in the pan and weight it down with another pan. Roast for fifteen minutes and then it turn over; top it with the weight and continue to roast for another fifteen minutes. Turn the bird back over and continue to roast for another few minutes, until its juices run clear. Remove to a platter, drape it with foil, and let it rest for 10 minutes before quartering and serving it.
{ 10 comments }