A Conversation with Jean Anderson
They say that you can always judge someone by the books you find on their shelves; when Susan and I met, I made a bee-line for her kitchen, where, perched above her enormous Kohler farmhouse sink, I found just a few volumes—Mastering the Art of French Cooking (an ancient copy), Larousse Gastronomique (in English), Patio-Daddio (fabulous), and a spine-cracked, speckled, worse-for-wear, jacketless edition of Jean Anderson's 1975 The Doubleday Cookbook which, to this day, Susan guards with her life. Once left out in the rain, it sat in our garage, drying out for weeks, where it grew a lovely layer of gray-green mold. When I suggested getting a new one, Susan responded with an icy glare. Years later, we still have it (the mold has been removed), and refer to it constantly for its broad categories, its often shocking accuracy, and its recipes that run the gamut from the expected to the positively exotic. My two desert-island cookbooks? The 5000-recipe Doubleday Cookbook; and Deborah Madison's Vegetarian Cooking for Everyone. With those, I have my bases covered, whether I'm making a perfectly medium-rare standing rib roast, or kichuri.
In a world filled with here-today-gone-tomorrow cookbooks and cookbook authors, Jean Anderson and her work have the staying power of the Rock of Gibraltar; steeped in an academic tradition, Jean's books possess the kind of now-rare remarkable accuracy attainable only through a sort of culinary Socratic Method. Couple this with her ability to write profoundly insightful works on the foods of other cultures (Germany, Portugal), and you've got an American culinary icon par excellence.
Today, cookbook authors come and go, and culinary trends tend to vaporize like mist, but your books hold a bedrock-like place in our food culture. How does one maintain the kind of momentum you do in a world that often, unfortunately, seems to praise mediocrity?
To be honest, I don't know EXCEPT maybe it's that I've kept a low profile all these years. I tend to think that in-your-face TV "stars" wear thin after a while and flame out. I also know that their cookbooks are sometimes hastily ghosted, that they may contain filched and/or untested recipes, and that they are often devoid of personality because those whose names and faces appear on the covers may have had little or nothing to do with "their" cookbooks. I research each of my cookbooks intensively, I test every recipe and often have colleagues backstop me on the testing. Moreover, I write every word injecting as much personal experience as possible so that I can relate to my readers.
You've written more than 20 cookbooks running the gamut from The New German Cookbook to Process This!, to the American Century Cookbook. How is it possible to move so seamlessly from one subject to the next, and devote to each the kind of concentrated authorial rigor that you do?
Well, I'm glad you think I move from one to another seamlessly. Why, exactly? I'm the daughter of academics (my father was a professor of plant physiology [and later UNC vp], my mother's field was human phys) and they taught me the importance of learning, that it never stops with a degree. I thirst for new subjects, new experiences and of course my Portuguese and German cookbooks were the result of many trips to those countries on article assignment for magazines like Bon Appetit, Food & Wine, Family Circle, Gourmet, Travel & Leisure, etc. I had made several dozen trips to Portugal before I wrote that book (which won a Tastemaker best foreign cookbook award) and at least a dozen to Germany before writing that book (for which I had a German co-author). I read voraciously and the TV shows I like best are those on the history channel, the National Geographic channel, PBS, etc. The Food Network is now so dumbed-down I no longer watch.
We have, in our home, hundreds and hundreds of cookbooks, but we cook only from a few. The one "general" cookbook to which we alway–constantly—return is The Doubleday Cookbook. Can you tell me a little bit about its birth and development? How long did it take you to write it?
The Doubleday Cookbook began way back in 1965 when Clara Claasen, legendary Doubleday editor of all those "Art of…" Cookbooks approached me — I'd worked on the Ladies' Home Journal Cookbook(where I was a food editor and had also co-authored The Art of American Indian Cooking– still in print after all these years and still selling well). Apparently both Beard and Claiborne had turned Doubleday down flat, so Clara approached me about doing the Doubleday Cookbook. I said I would consider it only if Elaine Hanna, a colleague at Ladies' Home Journal could co-author. She was a thorough-going pro, superb recipe developer/tester and altogether reliable. This was a major project with the Cook Book Guild (headed by Ruth Buchan) also involved. I don't know how many proposals Elaine and I wrote before getting the final green light — certainly more than half a dozen. As so often happens when there are too many chiefs, it took a while before the Doubleday powers-who-be could agree on recipe style and overall "tone." We submitted the book in batches, each of which had to be approved before we could proceed. Along the way, Clara Claasen retired and the new cookbook editor showed far less interest in the project. So the manuscript (cartons and cartons of it) ended up on a closet shelf and it was only when I got to know Ruth Buchan (through other Cook Book Guild projects) that I began inviting her to dinner and serving recipes from "the book." After about the 10th dinner (she loved all the food), she said, "I think I'd better take a look at this book." So she block/booked a Doubleday conference room, holed up for a month or more, read the entire manuscript, then went to bat for the book, convincing Sam Vaughan, John Sargent, and Nelson Doubleday, himself, that they had to publish this book. It hit the bookstores in 1975, was named TASTEMAKER best basic cookbook as well as "Cookbook of the Year." We revised and updated the book in 1985 , then Doubleday repackaged it in the early '90s so it was more attractive (John Duff, now at Putnam/Penguin was responsible for that). Elaine and I both quit our jobs (she was then LHJ Food Ed and I was a senior editor at Venture, a high-end travel magazine I helped launch for LOOK), to work full-time on the Doubleday Cookbook. It took us 10 full years to write it.  Elaine tested and developed about 70 percent of the recipes, I the remaining 30 percent in addition to researching, organizing, writing, and editing all recipes and text. The book is still selling fairly well but the Random House group isn't interested in a further revision and intends to let the book run its course. A huge mistake, I think, but there it is even though the book has sold more than a million copies (all editions). I still get raves about it on my website. We have never received a single complaint about any of the more than 5,000 recipes and that, to me, is a flat-out miracle.
Tell me a little bit about your testing process, which must be exceptionally meticulous. Speaking as both an editor and an author, I have never experienced the level of recipe precision anywhere, that I have with your books.
First of all, I have a solid grounding in food chemistry and physics (Cornell), so I know why things work or don't work (and for years I was the "red phone" at Gourmet, thanks to my good bud Sara Moulton, who also worked in the Gourmet test kitchen before becoming their Executive Chef). My first job right out of Columbia Journalism School (I received my masters of science there), was in the LHJ test kitchen in NYC and that was incredible training. Every recipe was tested and retested until foolproof and if any test girl slipped up and a faulty recipe showed up in print, woes her. Early on, the baking powder was omitted from a Cranberry Nut Bread I tested (lost during the editing and production processes and no one caught it). So I personally reimbursed every cranky reader who wrote in to complain about the "gunky gray mess." You learn fast when you're on a slim salary and have to shell out to disgruntled readers.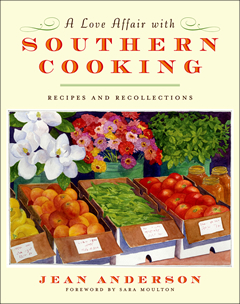 A loaded question: your most recent book, A Love Affair with Southern Cooking, is near and dear to my heart, as a southern food-loving Yankee. Given the opportunity to have one multi-course meal comprised of traditional southern food, what would the meal include, where would it take place, and with whom would you be dining?
Well, this is a tough one because I like SO many different Southern recipes, all of which are in A Love Affair with Southern Cooking. But it would include chicken of some sort — possibly fried or pecan-crusted — or maybe a good Smithfield ham. I'd certainly want a yellow squash pudding, butter beans, fresh-baked biscuits, maybe tomato aspic, and for dessert one of the South's glorious chess pies — brown sugar, lemon, Jeff Davis. Or maybe Kentucky Bourbon Cake. As for the guests, probably my two very southern nieces and some close Yankee friends like Sara Moulton, Joanne Hayes, Georgia Downard, Ila Stanger, Mal Duffy, Fran and David McCullough (newly relocated to historic Hillsborough, NC just north of Chapel Hill) as well as southerner Jim Villas and some new Chapel Hill Friends like Moreton Neal and Frances Gravely and their husbands. This party's getting out of hand. I think I'd do it as a potluck with everyone bringing one of the recipes from Love Affair.
Quick question of personal preference. Piecrust: Lard, butter, or shortening?
LARD. And for biscuits, too. I cannot tell you the complaints streaming into my website about the new transfat-free Crisco and how it ruins pie crusts, biscuits, and beloved family cakes, especially pound cakes. Smucker's say it behaves just like the old Crisco. NOT SO! I'm telling complainers to substitute LARD for biscuits and pie crusts and failing that, all butter. For cakes, the substition is also all butter. Just old-fashioned STICK BUTTER.
Digital "publishing" today is undoubtedly impacting the sale and quality of cookbooks—some say to an extreme degree, and others, less so. Where do you stand on the place of digital information, how it is imparted, and how it might be manipulated in the world of culinary publishing?
Well, I think that many "digital" authors are the same thieves who've been loading their electric newsletters and blogs with pirated recipes and copy. At present, it's lawless to a Wild-West degree and I truly don't know how to police things. Some talking heads say it doesn't matter if someone steals your text and recipes because it's good publicity for you. Well, not if you aren't credited. And of course, you never receive any money [for usage]. Publishers need to police things more closely (they're losing significant subsidiary rights fees) and authors ought to watch-dog for one another. As the Olney v. Nelson case proved some years ago, recipes can be copyrighted.  My first literary agent, Patricia Myrer of McIntosh & Otis, told me years ago that once material landed in cyberspace, it was forever lost. How right she was. She also said that once the big bookstore chains gained control, publishing as we knew it would be dead. Right again. A wise lady, Pat.
Everyone and their brother wants to write a cookbook today. What advice would you give to someone who is new to the process?
First of all, this is no time for beginners to write cookbooks unless they are celebrities because few publishers today are interested in a book that won't sell 4,000 copies an hour when "the author" shows up on book tour. Moreover, few amateurs realize that you can't just "snitch" recipes off the Internet or out of cookbooks because they don't think of this as stealing. I cannot tell you the number of what I call FF's (faux foodies) have built electronic newsletters, indeed whole careers, by recycling the copyrighted recipes and yes, text, of others. I'm a favorite poaching ground because my recipes are known to work. Quite honestly, I think the best way for rank beginners to start is by self-publishing a collection of old family recipes. Or perhaps, working on a local fund-raiser ckbk never loosing sight of LOCAL. I'm not looking for quiche or lasagne in a Hattiesburg, MS fund-raiser or a Galley Bridge, WVA fund-raiser. Unfortunately, packagers have now leapt into the local fund-raiser cookbook business and just keep recycling the same-old, same-old, which has nothing whatsovever to do with the community trying to raise funds.
Editor's note: …all of which means to me that now is the time for new writers and authors to change business-as-usual. See my piece on the Huffington Post to this end.
Thanks so much, Jean.