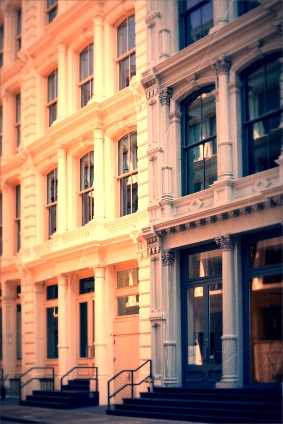 I decided that we should stay downtown on the night of the James Beard Awards this year; it was admittedly a bit of a splurge — hotels uptown and in midtown tend to be a little bit less expensive, and they would have been closer to the location of the Awards dinner, which was in the West 30s. But considering that the James Beard Awards happen exactly once a year, I rationalized a stay below Houston Street, at the Soho Grand.
Beard nominations can do strange things to one's psyche: last year, I had the honor of going up against one of my personal heroes, Barry Estabrooke, and the lovely author of the blog Red Cook, Kian Lham Kho. The three of us couldn't have possibly been more different, and to mark the occasion, I went a tiny bit batsh*t, and bought a very fancy suit; I then had my makeup done by a nice lady at Bendel's who made me look like an entirely different person with a small Joan Crawford obsession.
"At least now you have eyebrows," my mother said ruefully, watching while the nice makeup lady brushed chocolate brown gel powder above my light hazel eyes a few hours before the awards.
"And best of all," the nice makeup lady added, "is that they'll last for a while. Days, even."
"Have we met?" my friend Kathleen Purvis of the Charlotte Observer asked, extending her hand, at the pre-award cocktail party.
"Yeah, Kathleen—" I responded, rolling my eyes. "It's ME."
Having to introduce yourself to someone who already knows you after getting your makeup done is never a good thing.
In any case, last year I lost to Barry and had a delightful evening with Susan and the Edible Communities folks, who won Publication of the Year. We went out to the Ace Hotel after the awards were over, and I have a dim memory of everything being very noisy, dark, and a bit gin-drenched. Susan and I crawled back to our tiny and sad midtown hotel room, and the next morning crawled into our car, which crawled up the West Side highway and home to Connecticut.
That day, I vowed to keep my future post-awards crawling to a minimum. And if I was ever to be nominated again, I decided, I didn't so much need the fancy suit, nor did I want to look like a cross between Groucho Marx and Mildred Pierce. I just wanted to have a nice night, to hang out with a lot of people I love who I never get to see (why is it that so many of my culinary crushes live on the other coast? is this a sign?), and to be ensconced in the Zen-like atmosphere of the Soho Grand, where, if you require one, the front desk will bring you a personal goldfish for the duration of your stay. (I passed.)
Last week, on the day of the awards, I checked in, dropped my bags on the bed, and went straight to the window, which is what I always do in a new hotel room; I could just sort of make out the corner where Kenn's Broome Street Bar still stands, and remembered the burgers I ate there at lunch when I worked at Dean & Deluca in the late 1980s. Anyone could have wandered in back then and did: Eric Fischl, Mary Boone, Jean-Michel Basquiat were all skulking around the neighborhood at the time, generally avoiding the high-priced New Soho restaurants that had edged out the stalwarts where artists sat in their paint-spattered white canvas sneakers, drinking beer, eating French fries, and generally trying not to smudge meat juice on their wire-rimmed glasses. If I really craned my neck, I could see part of the brick building further up West Broadway, now housing Eileen Fisher but forever embedded in my brain as Oh-Ho-So, the eclectic Chinese restaurant where I ate clay pot-cooked Plum Squab as a teenager with my mother and her boyfriend; when the server removed the lid, I gasped out loud at the heady, meaty sweetness of the tiny bird that had been braising for hours in its own juices until, with one delicate slice the length of its supple breast bone, it fell apart.
Staring out the window at my former haunts, I understood why I had to be in Soho that night: when I think of the fork in the road of my professional life — I had to choose between safety and passion, and a culinary retail job where a day might start with a visit from Edna Lewis and end with an hour long lesson on how to properly shave a black truffle into slowly burbling Carnaroli rice drizzled with meat juices propelled me headlong into the passion camp — I came to that fork in Soho, a very long time ago.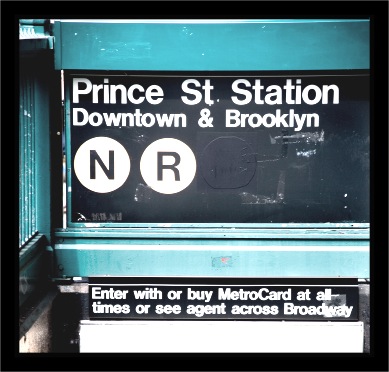 The Beard Awards were a swirl — Susan and I shared a taxi to the ceremony with Heidi Swanson, who was staying around the corner, and who won a Beard for her remarkable Super Natural Every Day; we stopped to talk with my dear friends Grace Young, Laurie Buckle, and Kim O'Donnel; toasted to good luck with the amazing team from Chronicle, who is — lucky me — publishing my book, Poor Man's Feast, in early Spring 2013; clanked medals with Ted Allen; sat with Maria Guarneschelli and Rodale's Steve Perrine and his wife Jen; got bear-hugged by my pal Andrew Zimmern;  went weak-kneed after being smooched by Marcus Samuelsson; and cried a little bit when Laurie Colwin's lovely and talented daughter, Rosa Jurjevics, stood up to accept the medal inducting her late-mother's iconic Home Cooking and More Home Cooking into the James Beard Foundation's Cookbook Hall of Fame.
"I used to read Home Cooking on the subway back to my apartment," I told Rosa that night, "laughing my ass off all the way home from my job in Soho." She smiled; I'm sure she hears that a lot.
When it was all over—when the awards crowd began to break up and file back out into the street—there was talk of going out to party, of having bourbon someplace uptown, of a long night of crawling ahead.
"Whatever you want to do—" Susan said, but I had already decided: I just wanted to go back downtown, and to be alone with her. There's something about winning an award like this that, despite the throngs of well-wishers and kind, heartfelt congratulations, is very, very personal.
So we fought the Friday night crowds in the lobby of our hotel, changed into jeans, and went back out to look for a place to sit down and have a quiet glass or two of champagne to celebrate Poor Man's Feast's win in the category of best individual blog, to raise a glass to all the readers who have stuck with me over the years, and to say a hearty cheers to my fellow nominees Gwen Pratesi and Aran Goyoaga, and the Beard Foundation. Susan and I walked and walked up West Broadway and over on Spring to Thompson, up Thompson and east across Prince.
"Here–" I pointed, stopping in front of Raoul's.
The last time I'd been inside was 1988, the night of Dean & Deluca's opening party at 560 Broadway. I had taken my mother and stepfather along as my guests; during the party, and standing in the back of the store in my apron (all employees had to work that night), I looked up to find my mother and Craig Claiborne, arm-in-arm, strolling over to the meat case.
"Come, my dear," he said to her, his reading glasses perched at the end of his nose, "Let's go look at the lamb chops."
I watched them bend down, point, and stare — Craig, at the lamb, my mother, at the pork roast she thought was lamb. After the party was over, my mother, stepfather, and I, at my boss Jim Mellgren's behest, walked a few blocks west to the small, then cigarette-smokey bistro, where we were led through the kitchen to a table in the enclosed garden room, and ate plates of the city's best steak frites.
"How do you ever find these places?" my mother said, shaking her head.
"In here?" Susan asked last week, peering in beyond the velvet foyer drapes. It was late, and Raoul's was dark and not overly crowded. There were two seats at the old, wooden bar. Paint It Black was blaring over the speakers.
Twenty-four years after I'd first eaten there, Susan and I sat down next to a older man in ancient white Smiths drinking a beer. We ordered two glasses of champagne, and I put my hand in my jacket pocket to feel for the Beard Award that I'd brought along with me at the last minute, just to make sure that it was real.