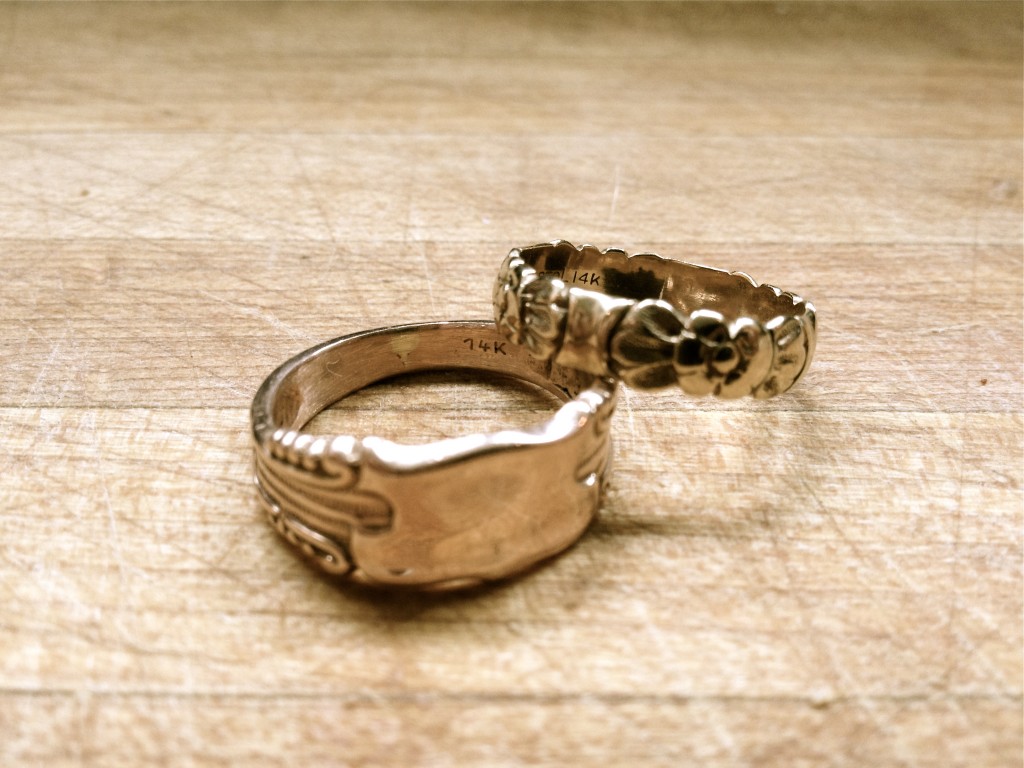 This time, it was my mother's idea. Mostly.
"It's extremely important," she said, "that you get married in New York."
"But we're already married in Connecticut–" I answered.
"But that's not New York. Only New York is New York," she said.
My mother possesses a slightly dippy sense of logic, but I understood what she meant: New York is home. It's her home; she's never lived anywhere else. She's like that Saul Steinberg poster come to life. Stuff that happens outside New York is vague and slightly unreal to her, like Disneyland. Only New York is legitimate and although Susan and I are married in Connecticut, my mother didn't think it counted.
Because Connecticut isn't real, like New York.
So Susan and I started to talk about it in earnest a few months back, and not without some trepidation. Getting married a bunch of times to the same person can pose some problems after a while. Do you celebrate all the anniversaries, or just one? And how do you know which one? Is it bad form to accidentally forget one of them? Does celebrating five anniversaries if you have six mean that something's missing from the relationship? Do people who traveled far and wide for the big one have to do the same for all of them? When does it begin to get onerous, for all parties? It can feel fraught after a while, but in our zeal to partake of the singular most culturally traditional act a completely in-love couple can possibly engage in, we decided to just keep on racking up the dates, and hope that our spotty memories are up to the task. (Of course, it would be so much easier if we could just celebrate one. But that's a conversation for another place.)
Ours has been a marriage of love and a marriage of food; the last thirteen years have been a merging of styles and flavors and families and culinary sensibilities, and have totally changed the way we think about ourselves both singly, and as a unit. When we met, I brought a certain and deliberate culinary excess to the table, and a belief that everything destined for a plate had to be a celebration, and that celebrations always meant fancy (which also sometimes meant ridiculous, and almost always tall). Susan brought the exact opposite: her food was quieter, and often served on buttered toast. It was celebratory too, but in an understated, peaceful, and far less shoehorned-into-submission way.
I like to think that what I've re-learned about food, and life, and feeding people is thanks to her; that's been her wedding gift to me, over and over again.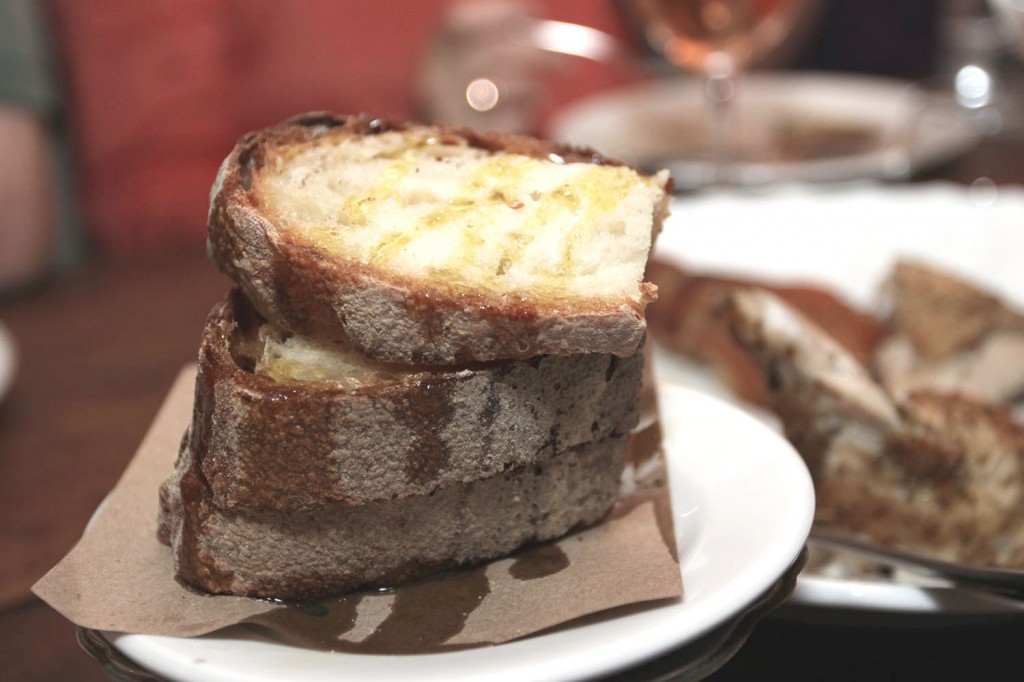 We had an unofficial union back in 2003, the year after my father died. Neither of us is religious — although I was raised in a Jewish home and Susan in a devoutly Catholic one — but we had two members of the clergy there and, because he couldn't stand alongside us, our ceremony took place beneath my father's Bar Mitzvah tallis (his prayer shawl) held aloft by my younger cousins. There were about sixty people there — family and friends on both sides came from far and wide — and because we were also celebrating some significant birthdays, it just felt like a big party. I worked for hours with our caterer to get the exact combination of Mediterranean dishes just right; I wanted the food to taste like Richard Olney had come back from the dead. There were thick Flintstone's-sized, double-cut lamb chops coated in tapenade and fire-grilled. Susan doesn't remember them. There was a tender olive oil cake, and gorgeous mounds of fresh fruit. I don't remember them.  My unsmiling mother wore a Flashdance-y tee shirt with a strategically ripped neck that made it slide off her shoulder. Susan's mother wore a black lace schmata in her hair, like a funereal mantilla.
That we remember.
In 2008, when Connecticut passed its civil union law, we had a second ceremony in our backyard, presided over by a local, sixty-ish Justice of the Peace who arrived wearing pigtails and a miniskirt. We didn't mention it to our mothers and instead invited our neighbors and ordered twenty pizzas to go. The following year, Connecticut passed same-sex marriage, and we got married in front of our fireplace. A Justice of the Peace from the next town — a Republican elected official — performed the ceremony. He was a cross between Ichabod Crane and an undertaker dressed in a black wool Chesterfield coat, and he wept while we signed the paperwork. Our best friends Lisa and Alyssa were there with us, and we all went out for a quiet dinner afterwards, where I ordered fig-glazed quail legs that arrived in adorably tiny cast iron pans.
When we started to make plans to get married in New York City, Susan had one requirement.
"I don't want to do anything big," she said.
I agreed, and took her literally. I envisioned what the table might look like after our short ceremony: There would be small plates, and small bowls. There would be nothing tall. Everything would be light and seasonal. A French inflection would help. There would be wine, probably a lot of rose. Maybe a bottle of something sparkling, although not necessarily Champagne which, while I love it, sometimes just seems too big.
We limited our invite list to twelve. The wedding had to be during the day, and the food had to be simple, but stellar; some of our guests, who suffer real sensitivities to heat and spice (making it hard to believe that I'm related to them) required that whatever we ate had to be flavorful but on the mild and comforting side. During a recent lunch at Buvette — Jody Williams' remarkable rustic jewelbox gastroteque that makes you feel like you've stumbled in to a tiny, deeply personal cafe in Paris that only a handful of people know about  — I found myself face to face with the exact same mirror we inherited from Susan's Aunt Millie, who we adored and miss every day. It was hanging over a slightly sequestered farmhouse table for twelve. It was a sign.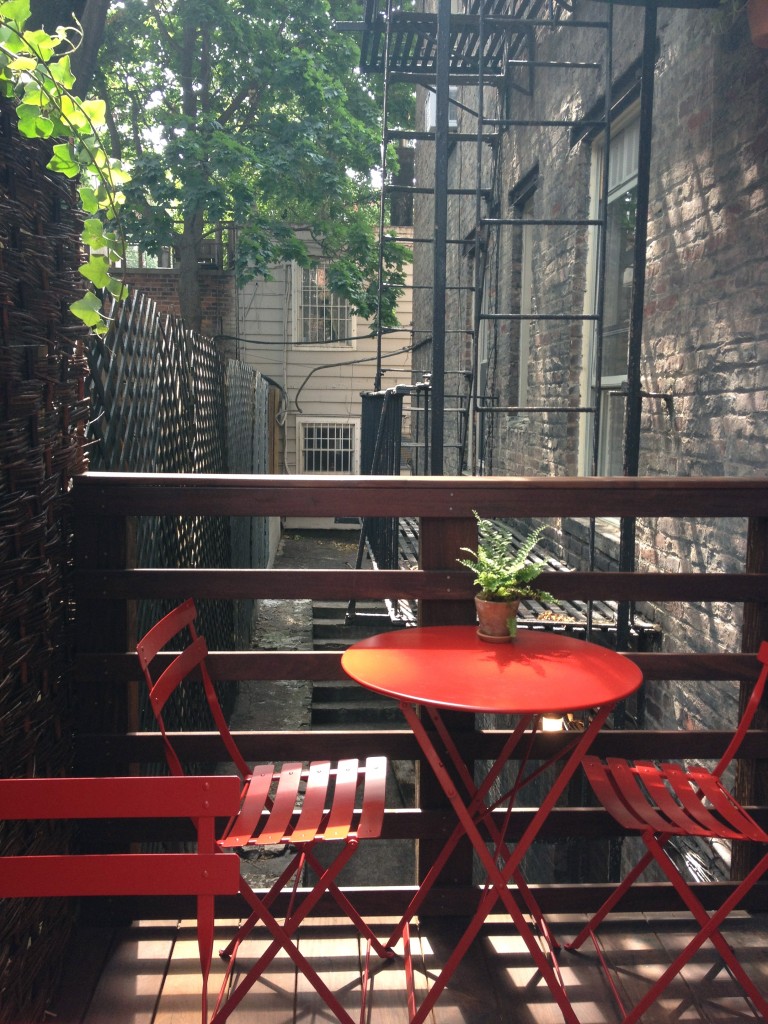 On August 24th, presided over by our dear friend, Judge Neil Ross, with whom I attended sleepaway camp in the 1970s, Susan and I were married in Buvette's petite outdoor space, our backs to an immense window into the restaurant. Alyssa and Lisa were in attendance, again, along with my New York/Pennsylvania cousins Laura and Larry. Susan and I exchanged Victorian wedding bands while the restaurant's patrons — sipping bowls of coffee; reading newspapers — looked through the window and beamed. And while we were outside making it legal, small bowls and platters were set down at our quiet wedding table: creamy, rich brandade. Rilletes. Ratatouille. Ripe figs and prosciutto. Fresh tomato salad. Roasted beets with almonds and horseradish creme fraiche. Roast chicken and wedges of crisp, brown pommes Anna. The most extraordinary green beans and potatoes in a luscious, rich, herby mustard vinaigrette. Tarte tatin instead of a tall, over the top, loud wedding cake. The rose flowed, and we drank a La Cueille Bugey Cerdon Rose — a sparkling demi-sec — as lunch neared its end, before our espresso arrived.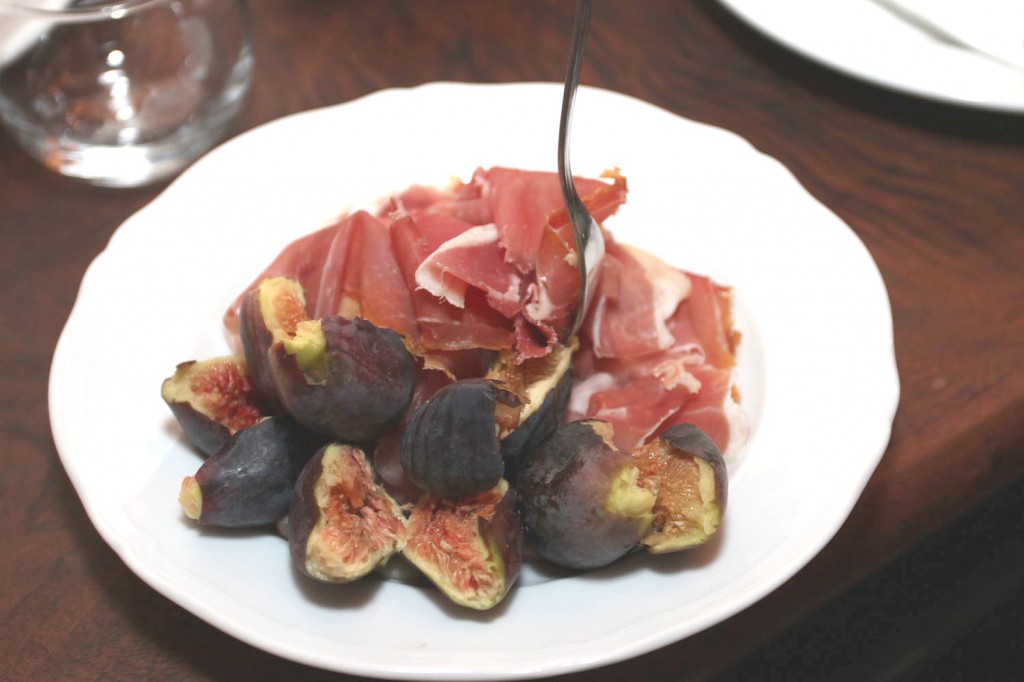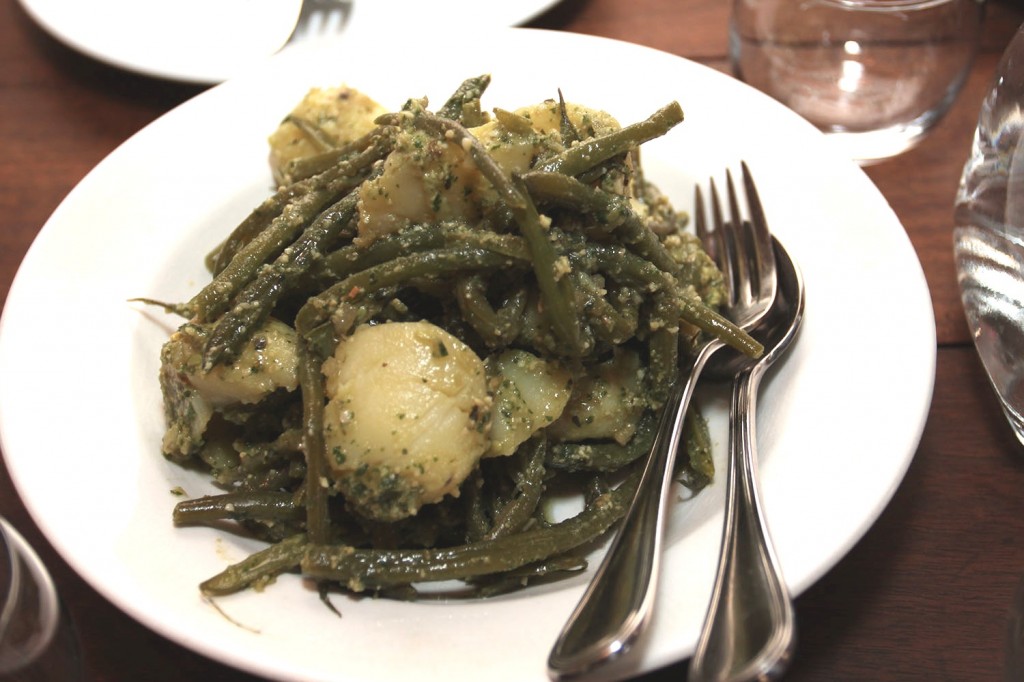 It was beautiful, and perfect, and lovely.
And small.
Will Susan and I get married again? Who knows. This wedding was my mother's idea; and when she raised her glass and toasted to our good health, and safety, and a lifetime of peace and joy, it made it the most delicious, real one yet.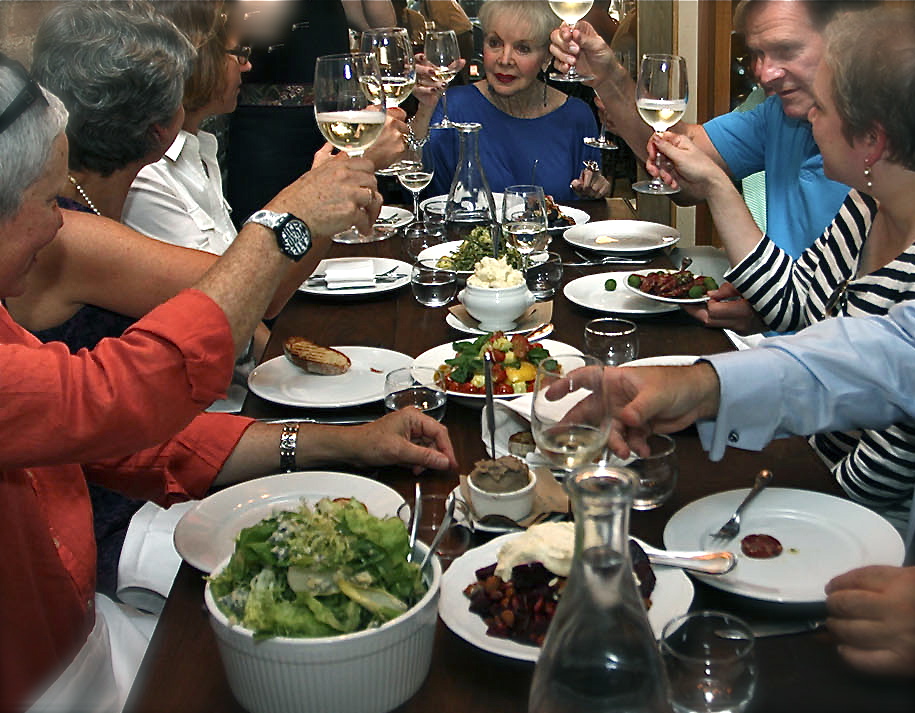 Wedding Beans 
Inspired by Jody Williams & Buvette
In this riff on Jody Williams' extraordinary beans and potatoes, I married steamed purple long beans with soft La Ratte potatoes that I slipped out of their skin; while still warm, the beans and potatoes were tossed with pounded basil leaves and garlic blended together with Deborah Madison's thick, pungent mustard vinaigrette made with yogurt instead of creme fraiche. The result is mouthwatering, robust, and unmistakably herby, all at once.
Serves 4
3 -4 La Ratte potatoes, or small fingerlings
1 pound purple long beans, tipped and tailed, and sliced into 3-inch pieces
For the vinaigrette:
1 large handful Basil leaves, torn in half width-wise (about 3/4 of a cup, loosely packed)
2 peeled garlic cloves
1 teaspoon excellent quality olive oil
pinch of salt
2 tablespoons red wine vinegar
1 shallot, finely diced
1 garlic clove, minced
1 tablespoon Dijon mustard
2 tablespoons plain yogurt (I prefer Siggi's)
1/3 cup excellent quality olive oil
3 tablespoons snipped chives
1 tablespoon chopped parsley
3 tablespoons capers, rinsed
In a large steaming basket set over a pot of simmering water, steam the potatoes until a knife inserted into them pierces the flesh with only light resistance, about 8 minutes. Add the beans to the steamer and continue to steam until they and the potatoes are tender, another 5 minutes. Slip the potatoes from their skin, remove the vegetables to a large bowl, cover loosely with a sheet of foil, and set aside.
While the vegetables are steaming, prepare the vinaigrette:
In a large mortar and pestle, gently pound together the basil and garlic cloves, drizzling with a teaspoon of olive oil and a pinch of salt; the consistency should be that of a thin pesto. Drizzle with a bit more olive oil to keep the basil from oxidizing.
In a separate bowl, combine the vinegar, shallot, and garlic; let stand for 15 minutes, then whisk in the mustard, yogurt, and oil, until smooth. Stir in the chives, parsley, capers, and the pounded basil until thoroughly combined.
Place the warm beans and potatoes in a large mixing bowl and toss with three quarters of the vinaigrette; let stand at room temperature for 10 minutes before serving.
The remaining vinaigrette can be used to drizzle on other steamed or boiled vegetables, white-fleshed fish, or hard-cooked eggs.
 Note: IMAGES 2, 4, 5, and 6 COPYRIGHT Eileen Miller