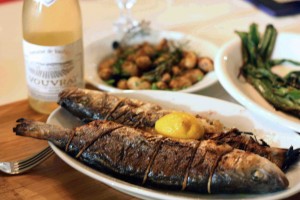 For reasons that are lost to the ages, my grandmother saw fit to cook fish for us every other Friday night, alternating with her shabbos roast chicken. I remember asking her why, and she said, without blinking, "because it's Friday." This was odd, because we weren't Catholic.
Nevertheless, my grandmother grew up in an ethnically diverse neighborhood in Williamsburg, Brooklyn in the early part of the 20th century, where she was surrounded by Poles, Italians, Puerto Ricans, and every other conceivable heritage imaginable, most of whom were observant Catholics. And at that time and place, if it was Friday—I guess—and you were Catholic, you ate fish. Eventually, I'm told, that evolved into just not being able to eat meat on Friday. My grandmother, who often made up her own rules, decided that poultry was in fact not meat when it got right down to it, nor were we Catholic, so we were safe going the chicken route. The other two Fridays a month, though, it was fish, out of deference to her neighbors and friends, and if I even mentioned the possibility of a hamburger, I was banished from the kitchen.
Our Friday night fish ran the gamut for a long time from overcooked salmon steak to overcooked salmon steak, plain broiled with a wedge of lemon, and I found it hideously boring and splintery. That gave way to sole, which my grandmother dusted with paprika and (again) broiled for about fifteen minutes a side. A few years later, our local fish store started selling sole that had been creatively wrapped around some asparagus; this, apparently, was very enticing to her, so that started making a bi-monthly Friday night dinner appearance, which eventually coincided with my having other plans.
So fish and I got off to a very bad start (gefilte fish not withstanding) and it's only been in the last few years that I've come to understand why. First, there's the freshness thing: you don't want fish that's been around the proverbial block—that's a given. Second: fish is all about the combination of texture and scent; not scent as in outright flavor, per se, but scent as in nose—that gentle whiff of herb or butter or garlic or sea-sweetness, that wafts up into the recesses of your brain after you've taken a bite. What changed it all for me was a dorade that I ordered a few years ago at New York's Cafe Luxembourg: tender, white-fleshed fish had been filleted a la Richard Olney (keeping its skin intact while removing its backbone), stuffed with tomato concasse and little bit of spinach, drizzled with olive oil, and roasted until it was crisp. The result: a kaleidoscopic combination of crunchy skin, sweet tenderness of flesh, and the concentrated brightness of tomato. It changed everything for me. And now, I love it.
Sometimes, though, the weeknight preparation of such a dish is totally impossible. So now, when I want fish during the week, I simplify it: I take the whole cleaned fish, stuff it with fragrant herbs including rosemary (which I used to consider too strong for fish, but have since learned otherwise) and thyme and a few slices of lemon, tie it up like a roast, drizzle it with a little oil and sprinkle it with salt, and just let it cool its heels for a few minutes so that it absorbs the flavor of the herbs. It goes onto a medium hot grill for about seven minutes a side and then sits for a few more minutes before I cut the kitchen twine, and then fillet it: the herbs become a bed for the fish, and the crispy skin tops it. The whole process takes less than half an hour.
It may not be gefilte fish, but it certainly isn't my grandmother's Friday night stuffed sole, either.
Herb-Stuffed Grilled Branzino
Buy the freshest fish you can find, have the fishmonger clean and butterfly it, while leaving the head and tail intact. (If he doesn't understand what you mean, find another fishmonger).
Serves 2
2 small Branzino, butterflied, skin, head, and tail intact
1 teaspoon sea salt, plus more for sprinking
4 sprigs rosemary
4 sprigs fresh thyme
2 sprigs fresh parsley
handful fennel fronds, from the top of a fresh fennel bulb (optional, but worth it)
4 slices fresh lemon (preferably Meyer lemon, if you can find it)
extra virgin olive oil, for drizzling
1. Open the fish so that they lay flat, skin-side down. Sprinkle each with about half a teaspoon of salt. Place half the herbs on one flesh side of each fish, and top each with two slices of fresh lemon. Close them up, tucking in any escaping herbs.
2. Preheat grill to medium-high heat (if using a charcoal grill, build your fire before step 1).
3. Using cotton kitchen twine, tie a loop around the tail of each fish, and make a knot. Wrap the twine, width-wise, all the way around the rest of the fish, and tie it off near the head. Repeat with the other fish. Drizzle the fish on both sides with olive oil, and sprinkle with a bit more sea salt. Let rest for five minutes.
4. Brush the grill lightly with oil, and place the fish over direct heat. Roast for about seven minutes, and carefully flip (the skin should release from the grill grates; if it doesn't, use a flexible, sturdy spatula to gently dislodge it). Remove the fish to a platter, drape it loosely with foil, and let it rest for five minutes before filleting and serving.