"… you are crowds of others, you are as leaky a vessel as was ever made, you have spent vast amounts of your life as someone else, as people who died long ago, as people who never lived, as strangers you never met. The usual I we are given has all the tidy containment of the kind of character the realist novel specializes in and none of the porousness of our every waking moment, the loose threads, the strange dreams, the forgettings and misrememberings, the portions of a life lived through others' stories, the incoherence and inconsistency, the pantheon of dei ex machina and the companionability of ghosts. There are other ways of telling."
― Rebecca Solnit, The Faraway Nearby
I've just started reading Rebecca Solnit's The Faraway Nearby, thanks to my friend Sarah Searle's inclusion of this quote on her recent post about place and time, and the vagaries of age and experience. I gasped when I read Solnit's words, like I'd been kicked hard between my shoulder blades; the air was forced out of my lungs.
When I lived in Manhattan — when I was busy and running on auto-pilot — I had a recurring dream, and I'd awaken with my mouth in a wide Munchian gape. Some nights I dozed so lightly that I couldn't quite tell what side of sleep I was on; I dreamt that I was taking an enormous bite out of a cannonball-sized rock that had been mysteriously rolled to my feet in the middle of an empty field.  It was a dream of stability, of the desire for control, and stasis; it was about the need for something constant and sure at a time of crazy uncertainty.  I sat up in bed with my jaw aching and my head splitting, my mouth open in attempt to swallow up the loose threads and the porousness of life where every experience — good or hideous — travels through you, blows you around like a tumbleweed in a tornado, and where change is the only thing you can ever really be sure of, beyond death and taxes.
But change — too much of it too fast — can take a toll, and leave you spinning like a Dervish. So, a few weeks back, Susan and I got out of Dodge; we went to the central coast of Maine, thanks to the kind generosity of a dear friend with a pond-side summer cottage who said take it; go. We packed up the car and the dogs and the books and off we went, to catch our breath from the psychic whirlwind that has been the last six months: the bone-aching grief over losing people we love to both death and fury, the nonstop traveling, the book publication, the expectations and the deadlines, the forgettings and misrememberings, the gorgeous births and digital smiles, the boundaries vaporized, the sad feelings and the hearts broken. Never having seen it, I imagined — I prayed, somehow — that the cottage walls would be white-washed, as though the broad brushstrokes and watery paint on wood might engulf me; miraculously, they were, the floor newly glazed like a sea of Devon cream. When the sun streamed in through the wide windows facing the water, everything — the books, the boxes of toys, the Legos on the coffee table, the paintings — shone quietly in the house; it felt fresh and filled with another family's love.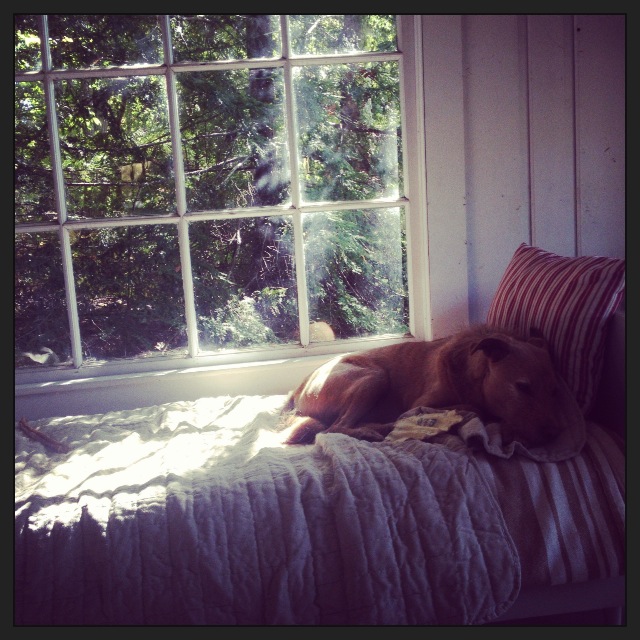 Minutes after we arrived that late Saturday afternoon, Susan and I positioned two slip-covered brown and white chairs in front of the window, facing each other; we fell dead asleep. I watched her, silently, until I couldn't keep my eyes open any longer. We slept that way for hours, sitting up like a pair of old women in our separate seats, waking up long after the sun had set. When I stood, I felt heavy and water-logged, and filled with the tears of an exhausting, labyrinthine  time that has almost — with its breathtaking joy and blistering loss — been too much to bear.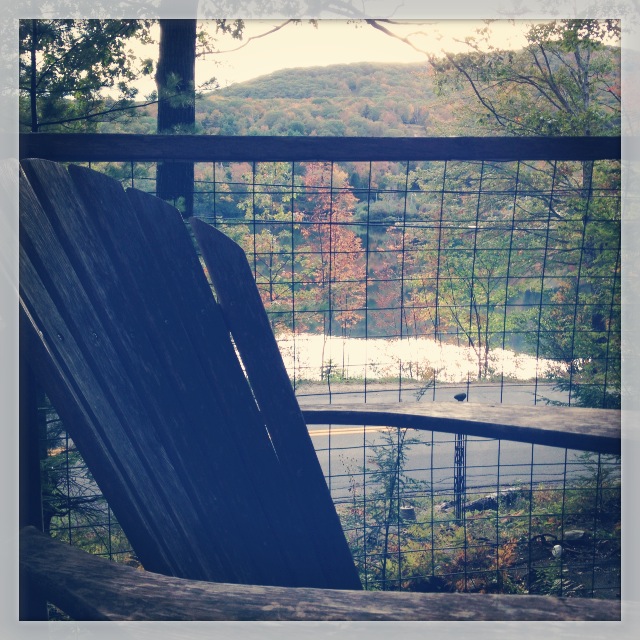 For the fifteen years that Susan and I have been together, we've always spent at least a few days every year in a cottage or a cabin. Our vacations always followed arduous times: either we had too much work or we had none. Weeks after we lost my dad, we went to a tiny house in Vermont, to which we returned every autumn for almost a decade; the year following my dad's death, we lost Susan's Aunt Ethel. The year following that, we lost Susan's Aunt Sophie. A few years later, we lost my cousin Harris. But no matter the circumstances or location, every night found us cooking together in someone else's kitchen, making long, drawn out things we'd never cook at home — things that take time and energy and are old-worldly, like hand-cut pasta, or bread. But when I stood up from my chair a few weeks ago in Maine, I realized that this time, Susan and I hadn't planned what we'd cook while we were away.
We hadn't even talked about it.
This is, in part, because god (or whomever is controlling the marionette strings) is quite the little yuckster, with a totally warped, sly sense of humor. It wasn't enough that when we left for Maine I felt soul-sucked and incapable of a straight thought; my body also decided that it had had quite enough too. And that's what most of us fail to realize: that when the mind and heart are overrun — when your cache is full and your brain starts to send out 404 messages — your body gets the spillover, and then plays badminton with it. Years ago, when I was having my jaws-around-the-rock dream, I was also felled by some weird illness that resulted in raging fevers and a twenty-pound weight loss (I should only be so lucky now). When Harris died, I broke my ankle going down my front stoop, and instantly went into shock. When I lost my father, I was diagnosed with a controllable but potentially deadly heart condition that was discovered by chance.
"Face it," the doctor said. "Your heart's broken."
You don't know the half of it, buddy, I thought.
In this case, for weeks before we went to Maine — in the throes of dealing with loss and withering strife — virtually everything I ate made me ill; the comfort foods to which I normally turn — the pastas and breads — betrayed me. The places where I always sought culinary refuge and sustenance — places that I took for granted — deceived me. Cooking was the last thing on my mind.
So I didn't plan to spend much time in my friend's kitchen until we were there and I realized — hiking every day with Susan and our dogs; reading in silence; watching the water; and slowly mending body and heart with the kindness of family and friends old and new — that I was slowly getting hungry again. I would just have to think about food and life and what it means to be nourished, both literally and figuratively, in a very different way.
Listen, I think, I am not myself.
Only I am.
Someone I loved once gave me
a box full of darkness.
It took me years to understand
that this, too, was a gift. — Mary Oliver
Cauliflower Flatbread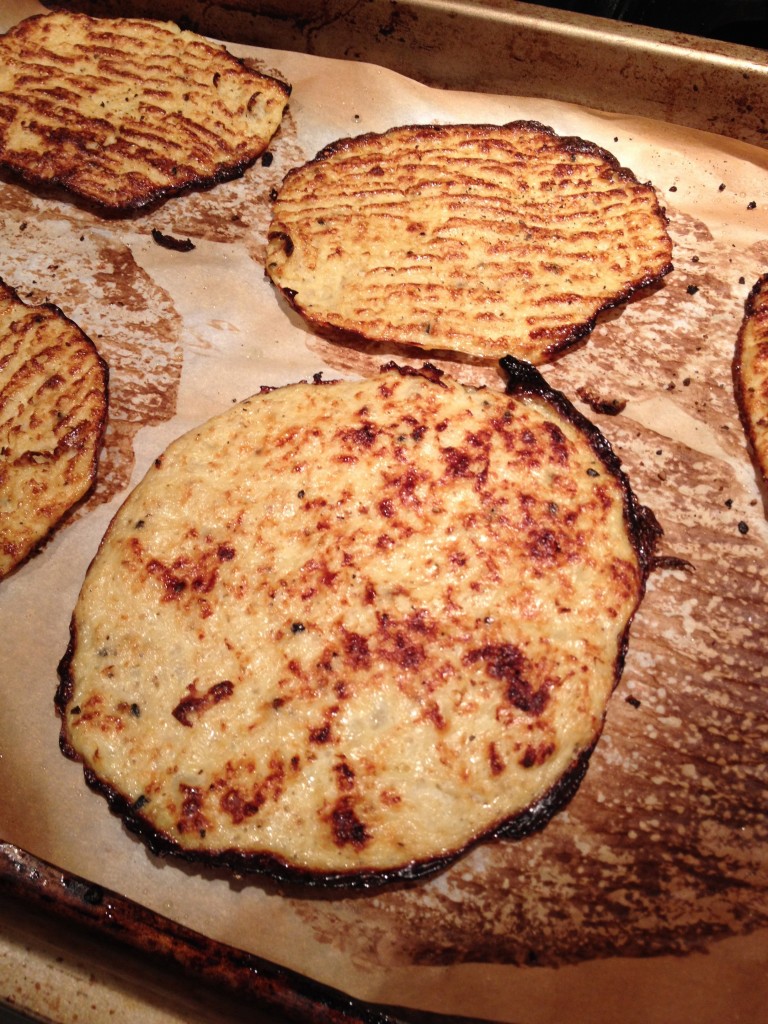 Right. So what is this all about, exactly? Why the euphemisms and back-handed attempts at talking about culinary change? Why not be more direct in talking about what the heck is going on with me at the table? Fair enough.
For one thing, when writers start talking about finding (the proverbial) god — or health — in changing how they eat, some folks take offense; at the very least, it makes a lot of people uncomfortable. For another, there are plenty of folks out there who believe that (here I go; I'm going to say it) gluten-free eating is a trend that's going to go the way of the Edsel anytime now. And the one thing I've always strived for here is to not make readers squirm, culinarily or otherwise. Snarky discomfiting writing is not what I'm about; you can find that in a lot of other places, but not here.
Over the last few weeks, when it became clear to me that, while stressed to the max, I am not currently able to eat what we would describe ironically as comfort foods — pastas, breads, pizzas — I started to remove gluten from my diet. It hasn't been easy or even necessarily fun, and I'm here to tell you that it's definitely not been trendy and hip. But it has worked; if it's possible to feel like one is healing slowly from the inside out, I do.
One night while we were in Maine, we were invited for a meal to the home of the lovely Josh Hixson and Tara Barker; they own the incredible 40 Paper in Camden, and 3Crow in Rockland where Tara — who also writes the glorious A Baking Life  — is pastry chef. Most dishes available at each place either are or can be made gluten free; all of the desserts they serve are gluten free. And they are mind-bogglingly delicious. But when we had dinner at Josh and Tara's home — with their gorgeous little boys running around us — and experienced astonishingly good grilled (gluten free) pizza, it heartened me and showed me the power of food made with kindness and thought, eaten in warm surroundings with great, new friends. It was a wonderful dinner, and for me, a healing meal.
All very nice. But what about the damned flatbread that I love to eat with almost every meal? Well, this cauliflower flatbread may be flat….but it's really not bread. It is delicious, though, stores well in the fridge (and reheats to a nice crispiness in a dry cast iron skillet), and — I would guess — probably freezes well. Add to the "batter" almost anything: one one occasion, I folded in a sprinkling of Nigella (the seed, not the lady) and toasted cumin. On another, there was a small handful of thyme leaves, red pepper flakes, and good sea salt. It's delicious wrapped around pretty much anything (like the vindaloo and Indian greens, below), and has been sort of my jumping-off point into this world. Thanks to Roostblog.com for creating the grain-free version of it.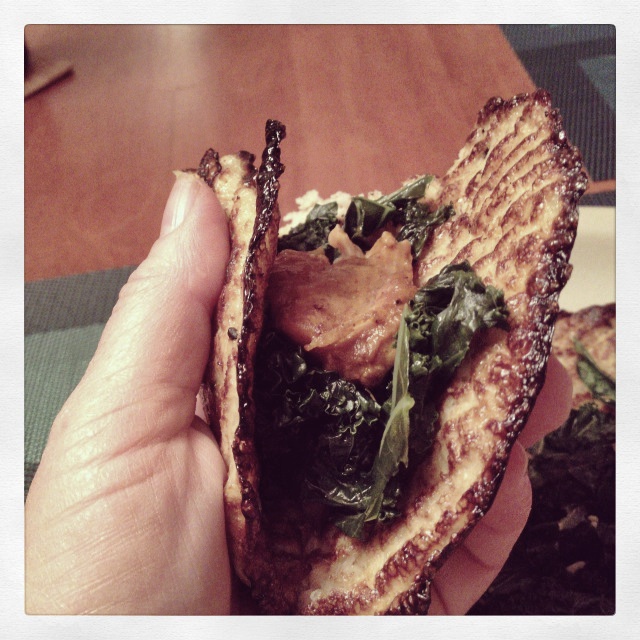 Adapted from Roostblog.com
Makes 4-6 flatbreads
2 small heads cauliflower, cut into florets
1 egg
3 egg whites
1/4 cup sorghum flour
1/2 teaspoon salt
1/2 teaspoon dried thyme leaves
pinch red pepper flakes (or to taste)
Preheat oven to 375 degrees F. Line a heavy-weight sheet pan with parchment paper, grease heavily, and set aside.
Pulse the cauliflower in a food processor until it resembles rice; you should have approximately 3 packed cups. Place in a dry saucepan and cook over medium heat for 5 minutes, stirring frequently, until the cauliflower rice begins to separate. Remove from heat and let cool. Fold the cauliflower rice into a clean dishtowel, gather up the ends and squeeze as much liquid as you can out of it. Place the cauliflower in a medium bowl and fluff with a fork.
Fold the egg and egg whites into the cauliflower and blend well. In a separate, small bowl, combine the sorghum flour with the salt, thyme leaves, and pepper flakes. Fold the flour mixture in with the cauliflower, and stir until thoroughly combined.
Using a ladle, spoon out rounds of the batter onto the greased parchment paper, smoothing out and flattening them to about 1/4″ as you go. Bake for 10 minutes, carefully flip with a flexible spatula, and continue to bake for another 6 minutes.
Serve warm.