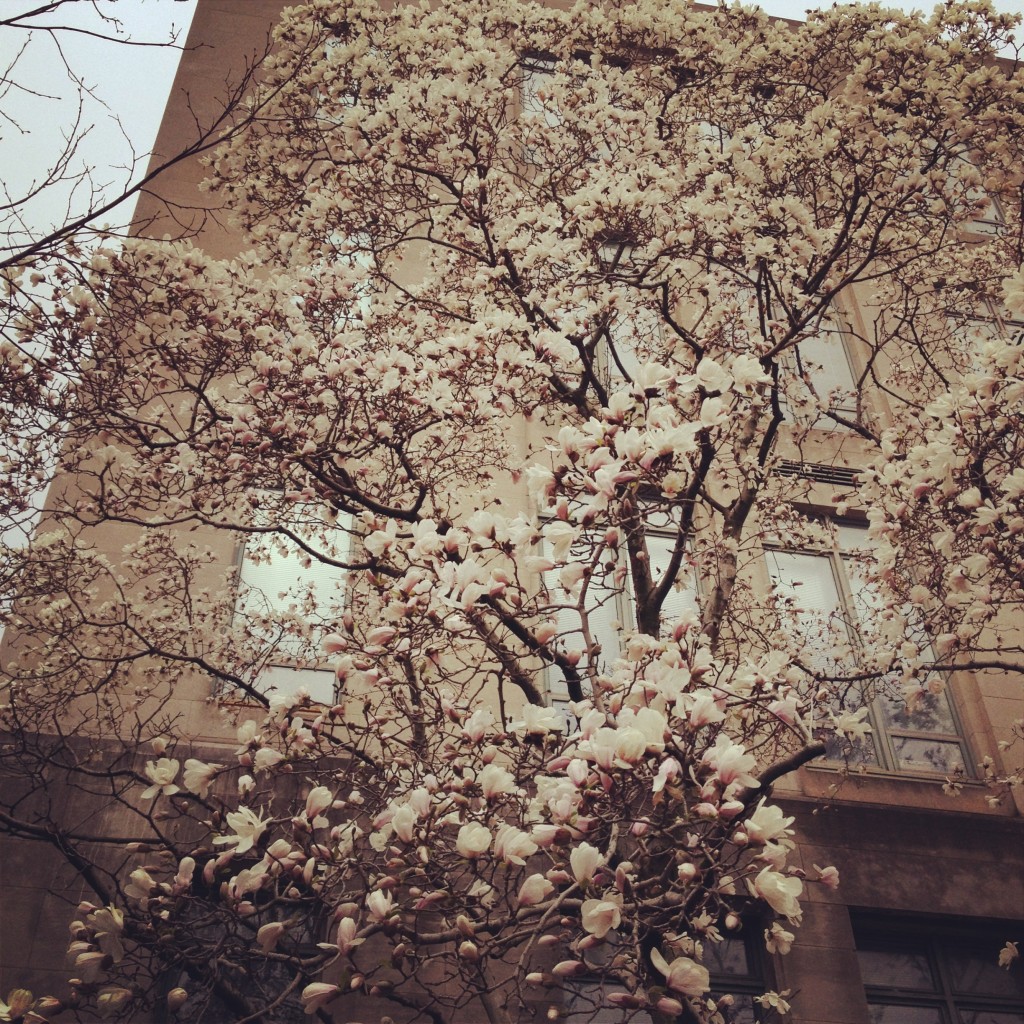 It's so quiet, 
and empty, when he's left. I feel like a landscape, 
a ground without a figure.
– from Stag's Leap by Sharon Olds
There's a certain place in Boston that I can smell from a million miles away. I can see it with my eyes closed; I can feel it with my hands.
Walk north along Arlington Street until you get to Marlborough, where gorgeous 18th and 19th century brownstones line both sides of the road. Make a left onto Marlborough and walk one block west, to Berkeley, to the corner where First Church in Boston has stood since 1868. If the weather is wet, step into the arcade and wait for the rain to pass; if it's cold, follow the arcade around the corner to the Marlborough Street entrance, and stop in the narthex. Look up. Breathe. Listen to the quiet.
I did this every morning, afternoon, and evening during the late spring and early summer of 1984. I had just finished my junior year at the College of Arts and Sciences at Boston University, and was working as an administrative assistant for a medical practice on Marlborough Street. Sometimes I rode my bike to work along the Charles from my apartment near B.U.'s West Campus; sometimes I took the T. But no matter how I got to my office on Marlborough Street just west of Berkeley, I stopped in First Church's arcade for a small rest, and to gather myself for the day. It didn't matter to me that I am Jewish; it was a place of profound calm and reason, and it gave me comfort.
When I started working in Back Bay, in mid-April of 1984, a month before my friends graduated — most were a year ahead of me — the trees along Marlborough Street had already burst into color; if I stood in exactly the right place in the arcade and the wind picked up a little bit off the river, I could smell the sweetness of the magnolias and the cherry blossoms, and the flowers in the Public Garden a few blocks away. I remember a small sliver of time when I would stand in the church's arcade and close my eyes, lay my hands flat against the cool brown stone, and inhale beauty and peace. Nothing could touch me; I was safe.
That was the year that I had grudgingly become an adult: I chose to stay in Boston for the summer rather than return home to New York. My friends — the five people I'd met the day I moved in as a freshman — were graduating and leaving, and I was suddenly alone. I had silently, surreptitiously fallen in love for the very first time in my life; no one knew. It was unspoken, uncomfortable, and unrequited; I kept her picture — soft focus, black and white — tucked into the back flap of a leather portfolio where it remains today, living in the depths of my mother's Manhattan hallway closet, buried in a waxy tan cardboard box marked SCHOOL.
My father moved me in to the studio apartment I'd found on Commonwealth Avenue, upstairs from a long-closed Eastern Mountain Sports. He took me to Beacon Hardware and bought me a set of blue and white Corelle-ware, service for eight; inexpensive, Colonial-style flatware; a few wooden-handled Chicago Cutlery knives (one of which I still have and love); a saucepan, a stock pot, and a saute pan, all Teflon; and a box of twelve, timeless Picardie glasses that he told me made stemmed wine glasses redundant. And then he took me food shopping for what he considered staples suitable for a single girl: a jar of olives, a jar of pickled onions, a bottle of gin, a can of anchovies, a can of sardines, a box of dried spaghetti, a can of tomato sauce, and a dozen eggs.
I'm not sure what he was thinking, other than that he was obviously reliving his bachelor days: after the war, my father worked in Boston for a few years and lived at The Eliot Hotel, where his kitchen consisted of a single hotplate and a refrigerator large enough for a cocktail shaker. On nice days when he came to visit me, we'd stroll down Commonwealth Avenue, past The Harvard Club. We'd stop at The Eliot, where he would peer in and smile, transported to the years of his youth. He'd stand and stare, close his eyes, and remember what being young and carefree felt like.
I learned how to cook for myself that late spring of 1984, in that small apartment, on a Harvest Gold electric stove. The object of my affection — a brilliant Italian cook who had learned at her mother's knee — had left the city, and was replaced in my life by Julia Child, who I would watch on WGBH re-runs every day, sometimes twice a day. I took notes; I went to Conran's and bought myself a white, wire pot rack which my father installed on my kitchen wall. On Sunday nights, with Charles Ryder and Sebastian Flyte and their naughtiness high on the catalogue of grave sins blaring in the background on PBS, I developed a signature dish which I made and re-made, over and over again, for myself: veal scallopine stuffed with pancetta and shallots and Gruyere, rolled, tooth-picked, dusted in flour, pan-seared, and braised in dry Marsala mounted with enough sweet butter to clog the Callahan Tunnel. I ate by myself at a shellacked pine trestle table meant for six; it shook like Alvy Singer's every time the Green Line rumbled past the window and headed west, away from Boston, towards the safety of the suburbs.
When I graduated a year later, I was ready to leave; I was done. I wanted to get out into the world, and to live. I was through with the small, beautiful city where I'd spent four years getting my life bearings, and trying to stand and walk like a toddler. I was done with the reminders, everywhere I turned, of college things, and that old familiar pain, as someone once sang, of someone I loved who didn't love me back, whose loss compelled me to fill my empty hours with the nearly suicidal richness of intensely overwrought food cooked badly and eaten alone.
Yet all these years later — after working in New York publishing for decades, going to cooking school, working at Dean & Deluca during the craziness of the late 1980s, finding the love of my life, settling down, getting older and watching the people around me get older — returning to Boston warms me; the thought of the city alone wraps itself around me like a blanket. Boston is my True North; my desire to leave was the result of time, not place. And so when my recent book tour — not quite nearing its end — brought me to the Harvard Bookstore for a reading on April 12th, I packed in seconds and left Connecticut far earlier than I needed to. I checked in at the Park Plaza, dropped my bags, and went back out; it was sleeting, and I immediately worried for the runners who would be converging on the city three days later.
Soaked to the skin and freezing, I was pulled like metal to magnet across Arlington Street towards Marlborough, to my little private spot of peace and reason in First Church's arcade. I closed my eyes and breathed in the smell of spring rain and early dogwood. I laid my hands flat against the cold brown stone, and wept to be home.
Elissa Altman will be reading from Poor Man's Feast: A Love Story of Comfort, Desire, and the Art of Simple Cooking on Saturday, April 20th, at Wellesley Books at 4 pm; and on Monday, April 22nd at noon at Northeastern University, and at 7 pm at the BU Bookstore.