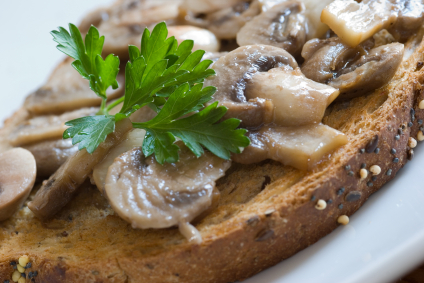 Years ago, I remember seeing the cover of a Gourmet magazine that featured a large creme brulee and a perfectly-weighted silver hammer hovering over the dish's glass-like, candied surface. It was all part of an article about the traditional "burnt creme" served in the dining hall at Trinity College, Cambridge, the university where I'd be studying for a semester (although not at Trinity; I was at Caius). I arrived, expecting similarly great culinary things, but I was young and foolish. Instead, I made the acquaintance upon my arrival of a local pub's venison pie (vile and gamey); Scotch eggs (delectable, but hideously billiard ball-like when cold); bangers and mash (unidentifiable and worrisome); and kippers and fried tomatoes with my breakfast eggs (do-able, since I like fish for breakfast). The icing on the cake was that my first high dinner at Caius was punctuated by a dessert called gooseberry fool, and that just made me laugh myself silly. (Again, I was young. My English friends didn't find it, or me, so funny.)
Still, there were certain things that were remarkable: the roast beef that the Caius dining hall would serve was expertly prepared, a joint of perfectly cooked, pink, juicy meatiness seasoned with just salt and pepper; local, fresh peas were exquisite and sweet when tossed with nothing more than hot, cooked pearl onions, a pat of butter, and a sprig of mint; wild mushrooms on toast were earthy, aromatic, and comforting; Damson plum tart was warm and soft and tangy; strawberries and clotted cream were, well, strawberries and clotted cream. My rooms, which overlooked the Cambridge outdoor food market, wound up being the place my friends came for large wedges of unpasteurized Stilton and port after dinner; I often made lunch of a chunk of local farmhouse cheese, a slice of dark bread, and a dollop of some sort of jarred pickle that I'd found while walking around the market after morning classes.
My run-in with the venison pie not withstanding—and although I never witnessed the silver-hammer-creme-brulee-thing—I was in love with English food (and the way the English seem to have with food) by the time I left Cambridge. What I never guessed is that 25 years later, I'd be completely besotted by a handful of English food writers who have totally turned my mundane little food writing life on its head. It's embarrassing, like finally admitting that the crush I had on David Cassidy back in 1971 was probably because he looked like a lady.
I "discovered" Jamie Oliver around the same time that the rest of America did—when he appeared in the BBC series, The Naked Chef, and Hyperion published the tie-in book, in 2000. Here was this totally cheeky guy with weird hair and a mockney accent, like his tongue was slightly too large for his mouth, stripping down recipes to their barest essentials. I remember one episode of his show where he dumped a bunch of hot/warm peppers into a gratin dish, covered them with olive oil, and roasted them: he poured out the pepper oil into a bottle for use on pizza, pasta, fish, what have you, and then stuffed the remaining peppers with a mixture of anchovies and capers. Put those back into a storage jar, covered them with oil, and suddenly had a few months worth of mix-ins for salads, pastas, or for eating straight out of the bottle. Beyond the hands-on, Oliver is in the thick of the movement to get non-cooks back into the kitchen, and has gone on in the last 11 years to be one of the world's leading anti-obesity crusaders and a proponent of healthful eating for school-aged kids in the United States (pissing off an entire town in West Virginia in the process). Oliver won the TED 2010 Award, and you'll never guess what he's doing with his earnings….. The fact that his fourth child is named Buddy Bear Maurice Oliver makes me love Jamie all the more (she says, bashfully looking at her shoes). If you circle back, though, and read his cookbooks, watch his shows, and just plain listen to the guy as he talks, he's all about simple, delicious, fresh, basic food: no foam, no fuss, no frou-frou, no fakery, and, unlike Gordon Ramsay, no fits.
On the newspaper journalist side of my crush is Nigel Slater, whose Kitchen Diaries I bought last November (along with his brilliant Real Fast Food) at Omnivore Books in San Francisco and read, cover-to-cover, like a novel. The food writer for The Observer Magazine, Slater, like Oliver, is all about the simple, the delicious, and the fresh (mash up some kippers, mix with some cheese, broil on some toast. This is my kind of food); his food can very often take an eastern or north African turn, which is also partly why I adore him (especially since I had my first Indian meal in Britain). The other part? His home life, as depicted in his memoir, Toast, was fraught from start to end with such domestic psychological and emotional combat over food—cakes, pies, candies, you name it—that it's convinced me that we were a) separated at birth; or that b) the guy must be a Jew from Queens, like me—just with a lovely accent. The icing on the cake? He says in Real Fast Food that a pastrami sandwich is the finest sandwich around. Thus, I'd walk over hot coals to read Slater, and to cook from any of his books. To make me appear even more stalker-ish, I've downloaded all of his podcasts as well as the audiobook for Toast, which has more than once resulted in my pulling over in my Subaru on I-84, alternately crying my eyes out and laughing my ass off. If only read for the food, Slater's books are like a heap of cashmere blankets on a cold, soggy afternoon.
And speaking of cold, wet afternoons, it's been Hugh Fearnley-Whittingstall, the Etonian, shaggy-haired founder of River Cottage and the closest thing I've found to a food fanatic's Helen and Scott Nearing in terms of back-to-the-land-ism, who has made it okay for me to admit (to myself) that I not only like meat, but that I don't have to give it up—just as long as it's been raised properly, lived a good life, died a humane death, and is prepared with respect and care. His earliest books, which featured more-than-suggestive pictures of slaughtered animals, sent me running for cover, until I stopped to read them: his recipes are elegant in their simplicity, and not unlike Olivers', a fact which makes sense—both Hugh and Jamie were trained under Rose Gray and Ruth Rogers, chef-owners of the legendary River Cafe in London. I have an even bigger crush on Hugh since I discovered he launched his own quasi vegan-till-six weight loss regimen as far back as 2007. And he's cute as the dickens, now that he's cut his foppish mop of curls, and looks like a grown up.
Okay, so where are the ladies? I don't have to say much about Nigella, who has often made me swoon with a glance at her rotund couscousiere of love, and her recipe for Gooey Chocolate Pudding. I don't even like sweets, and still, I once found myself ensconced in my kitchen on a late weekday afternoon, up to my elbows in bittersweet chocolate, making a batch of the stuff just for myself and a surprised, delighted, and smitten Susan. Sometimes Nigella's recipes work better than at other times, and frankly, I couldn't care less: it's all about the love. And heavens, I do love Nigella.
I could go on forever: Jane Grigson. Tamasin Day-Lewis. Patience Gray. Sophie Grigson. Elizabeth David. I worship them all, and whenever I'm feeling off, I plant myself on the couch with every one of their books, wrap myself in a blanket, and read. Hours later, I emerge, feeling better, but invariably craving things like lemon curd; spezzatino di agnello; toasted crumpets dripping with sweet butter; lemon rice pudding; pheasant; tomatoes a la Grecque; mushrooms on toast; and a plate of perfectly baked fish and peas.
No foam or froth in sight; just a lot of love.
Creamed Mushrooms on Toast
We generally have neither mushrooms nor cream in our house (I only go for fresh where the former is concerned, and my arteries aren't thrilled with the latter), but when we do, I invariably wind up making one of my favorite dishes, and one that I never would have come to had I never had it while at Cambridge: creamed mushrooms on toast. The bread is usually very good quality rye or wheat, the mushrooms a combination of whatever is fresh, and I always add some minced shallot, a glug of brandy, and a large handful of parsley and thyme to the end result, which is perfect for a fast, late-night dinner.
Serves 2
8 ounces mixed fresh mushrooms (I used Black trumpet and Cremini here)
1 1/2 tablespoons unsalted butter
1 small shallot, finely minced
1 tablespoon brandy
2 tablespoons heavy cream
salt, to taste
handful fresh chopped parsley and thyme leaves
2 slices toast
1. Wipe any dirt from the mushrooms with a dry paper towel. Slice the stems away from the top, and give everything a rough chop (but don't mince or dice them). In a heavy saute pan over medium heat, melt the butter. When the foam subsides, add the mushrooms and shallots together, and cook until the mushrooms begin to release their liquid and the shallots go opaque, about 5-8 minutes.
2. Stir in the brandy and continue to cook about 3 minutes, until the alcohol begins to burn off. Add in the cream, stirring well to incorporate. Continue to cook for another 2-3 minutes, and then add in the parsley and thyme.
3. Combine well, taste for salt, and serve on two slices of warm, brown toast.