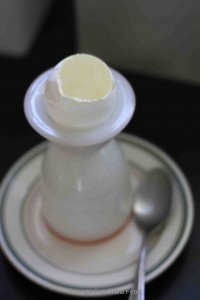 We had talked about it for a long time: what would Susan want me to make for her last dinner at home prior to having the surgery on Long Island that would (hopefully) clear up her apnea, allow her to sleep, and put an end to my holding a mirror under her nose every morning at 3:37 am just to make sure she's breathing.
"If I'm not going to be able to eat solid food for a while," she said, thoughtfully, "I'd like you to make me Boeuf Bourguignon. With noodles."
"Yes, honey," I said.
I did not remind her that we're both trying to eat more grains and far less meat and fat. I did not remind her that we're supposed to be eating fewer simple carbs and white pastas and that egg noodles are the nutritional equivalent of Elmer's glue.
I did not remind her of any of this because there are rules about this sort of thing: if the person you love more than anything or anyone else in the world is having surgery for the first time in your couplehood, you need to give them what they want without haranguing them.
And that was my plan.
The Boeuf Bourguignon recipe I turn to whenever I make it is ages old — it comes from Samuel Chamberlain's Bouquet de France by way of Stevie, my best friend from college, whose three brothers-in-law and husband would scale the Eiger in toe shoes in order to get to it. Thick, velvety, simple, and meaty, it is not at all tarted up in the way that some Boeuf Bourguignons can be; the recipe, which in its original form calls for some water in addition to wine but which Stevie's mother altered years back so that it uses entirely wine with no water, works beautifully if you follow it. If you don't — and sometimes I haven't — you'll wind up with a sort of purply spackle like the stuff that I so ingeniously made for my friend Deborah Madison and her husband Patrick last year in Mill Valley over Thanksgiving. Of course, it takes a special sort of arrogant wisdom to nervously throw an off-the-cuff beef stew together for the woman who changed the way America thinks about vegetable cookery. It was a dismal failure as it was destined to be  — culinary arrogance somehow always leads to botched recipes— and if I was the sort of religious person who believed in divine retribution, I'd say that the snickering I heard in the middle of the night was not coming from the dog.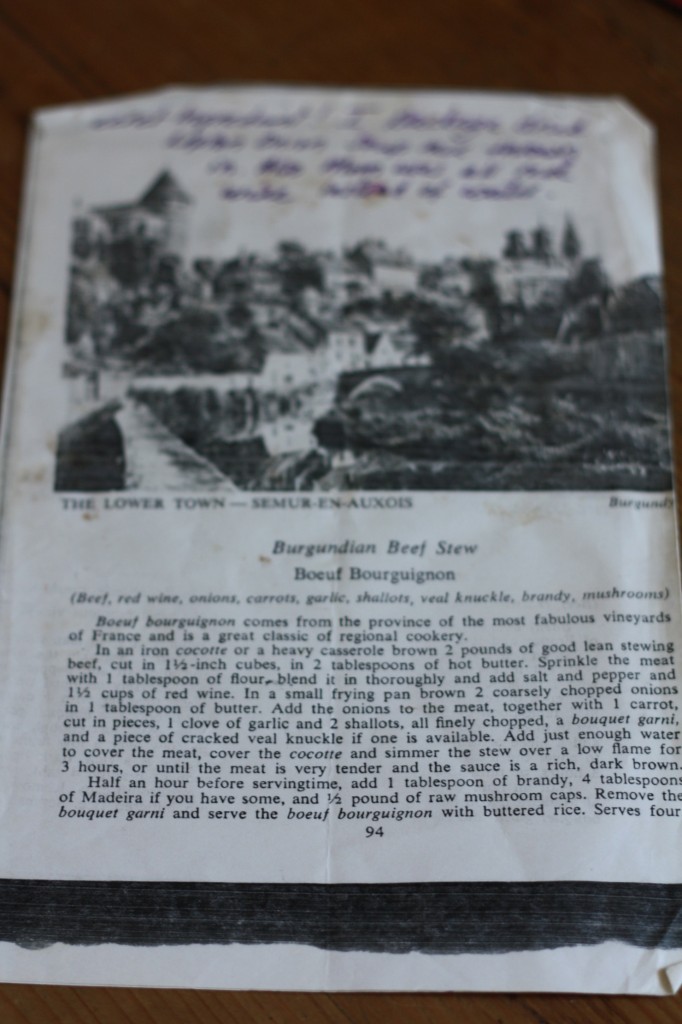 So I bought the meat and the wine and the mushrooms, and then carefully planned out the other, post-surgery dishes I intended to make for Susan once she was interested in eating anything again: congee and an elemental miso soup with silken tofu; strawberry jello; chicken broth doctored with star anise; dal with turmeric because, my Indian friends tell me, turmeric is a great anti-inflammatory. Susan went and got her hair cut in her lovely Jean Seberg crop, and laid out her clothes for the week of the surgery, since we were going to be spending it at my stepmother's house on Long Island until Susan was steady enough to travel the hour and a half back home to Connecticut.
And then, on Saturday the 29th, while we were out doing some last minute shopping, it began to snow. Heavy, wet, gloppy snow that poured from the sky like milk from an upturned carton. In less than an hour, there was three inches of slimy, slippery gunk on the ground, quickly covering my neighborhood's still-green yards and late autumn gardens; cars spun off the road, and it took us nearly an hour to travel the three miles from town back to our house in my Subaru. Trees, which had not yet dropped their leaves, began to bend and then snap, and by 3:00 that afternoon, the lights flickered and the power died, taking with it the phone, water, and, of course, heat. By the next morning, there was eighteen inches of snow on the ground, and it was not yet November.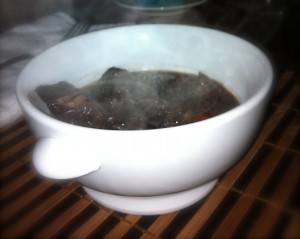 It wasn't so bad, I reasoned; our stove is dual-fuel and since we have a 99 gallon propane tank hooked to both it and our gas grill, I could cook anything. The little yeasted loaf that I've fallen in love with thanks to Heidi Swanson could just be baked outside. Tofu and vegetables could be cooked on top of the stove. The Boeuf Bourguignon with wide egg noodles would still be made for Susan, and it was. That great John Thorne essay came to mind — the one that has him leaping out of bed in a freezing Maine cabin, to race to the outhouse and then come back and make himself a strong cup of cocoa to have with his breakfast — and I stood in our dusky suburban kitchen, slowly browning the meat in batches by lantern light while wearing more fleece than a flock of sheep. Three hours later, we lit the antique hurricane lamps that my mother had given us last year, set the table, opened up a bottle of middling Petite Sirah, and ladled the meaty stew into coffee bowls, atop spoonfuls of lightly peppered egg noodles. It was delicious and soothing, and when we went to sleep under a pile of blankets, a dog, and several cats, we pretended to feel safe and happy.
But we were not.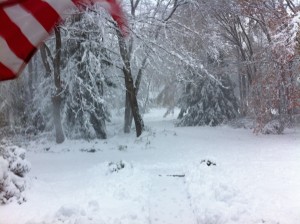 We were freezing our asses off.
52 degrees outside might seem temperate; 52 degrees inside is cold.
I had hoped — we had hoped — that the few days before Susan's surgery would be relaxing, or at least calm; they weren't. They were freezing, and fraught. Power was knocked out to nearly a million Connecticut customers, including my 93-year-old mother-in-law who waited a full nine days for it to come back on, even as lights beamed through the windows of the homes on neighboring streets. We packed up the car the morning before the surgery and drove to New York, exhausted and cold, and not knowing when the power would return, or if it would come back before we did.
We were lucky: unlike a huge swath of the state (and half my town), our power came back three days after we lost it, and when I finally brought Susan home and put her to bed to recuperate, the house was warm. And I didn't have to melt snow in order to do laundry.
Once I got Susan settled, I went out to the grocery store so that I could refill our refrigerator since we'd emptied it the night before we left for New York. In our tiny supermarket, my neighbors still without power after more than a week milled around, zombie-like and sleepless, their hair standing on end like they'd been pulled from their beds in the middle of the night. I brought home a dozen eggs, a tub of miso, udon noodles, and a carton of silken tofu.
"What can I make you?" I asked Susan, sitting on the side of the bed. I envisioned small bowls of soothing, umami-laden goodness, of slithering soft noodles and tender cubes of pillowy tofu.
"A soft-boiled egg," she said, hoarsely.
"That's it?" I asked.
"That's it," she whispered.
And then she pulled the covers up high around her neck, asked me to turn up the heat, and slept until morning.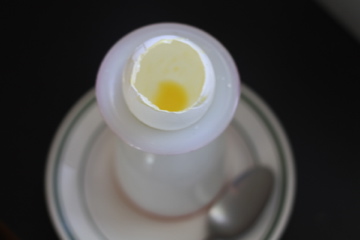 A Perfect Soft-Boiled Egg
Most "invalid" dishes are heavy with carbohydrates, and for good reason: they're easy to digest, they're (usually) soft, and they're kind to the throat. And therefore, soft-boiled eggs don't usually show up on the intuitive list of post-surgery meals. But years ago, when my aunt was in the hospital and I went to visit her, she grabbed my hand and said, "Elissa, you know what I'm craving? A soft-boiled egg." She closed her eyes and swooned. So when Susan asked me to make this for her, I wasn't entirely surprised. That said, this elemental dish had to be made perfectly, and with care. I couldn't set in the egg to boil and go wandering off to check my Twitter feed: a minute too long, and the yolk would be too hard for Susan to swallow. I served this protein-packed, silky bit of goodness to her in her childhood egg cup, and when she was finished with it, she whispered can I have another? 
Makes 1 egg
Bring a saucepan filled with water to a boil, and carefully lower the egg in, making sure there's enough water in the pot so that the egg is completely submerged. Lower the heat to a bare simmer, and continue to cook for 3-1/2 minutes. Drain the pan, and re-fill it with cool water. A minute later, place the egg in an egg cup, and snip or tap off the point. Serve with a child's nursery spoon.
Samuel Chamberlain's Boeuf Bourguignon
(adapted from Bouquet de France)
Every Boeuf Bourguignon recipe I have ever tried — including a now-famous one produced by someone who shall go nameless, lest I be tarred and feathered — pales in comparison to this one. It might be the required veal knuckle, which I've never been able to find and therefore replace with two tiny pieces of oxtail, and which imparts a velvety consistency to the sauce; even on its own, ladled over a piece of day-old bread, it's worthy of celebration. Refrigerated overnight, the stew is better the next day, and freezes perfectly for up to three months.
Serves 4
3 tablespoons unsalted butter, divided
2 pounds beef stew, cut in 1-1/2 inch cubes
1 tablespoon flour
salt and pepper, to taste
2-1/2 cups full-bodied red wine, divided
2 medium onions, coarsely chopped
1 medium carrot, scraped and quartered
1 garlic clove, minced
2 shallots, minced
Bouquet garni
2 small pieces of oxtail
1 tablespoon brandy
4 tablespoons Madeira
1/2 pound raw mushroom caps, quartered
In a large Dutch oven, melt two tablespoons butter over medium high heat. When the foaming subsides, brown the beef in batches, removing pieces to a plate as they sear. Return them all to the pot, along with any accumulated meat juices. Sprinkle the meat with the flour, blend it in thoroughly and add salt and pepper and 1-1/2 cups of wine. Reduce the heat to medium.
In a small frying pan, melt the remaining tablespoon of butter over medium high heat. When the foaming subsides, saute the onion until lightly golden, and add to the beef, along with the carrot, garlic, shallots, bouquet garni, and the oxtail, stirring well to combine. Add the rest of the wine to cover the meat; place the cover on the Dutch oven and simmer over a low flame for 3 hours, or until the meat is very tender and the sauce is a rich, dark brown.
Half an hour before serving time, add the brandy, Madeira, and the mushrooms, and continue to cook, uncovered, until the mushrooms are tender. Remove the bouquet garni, and serve the stew in warm bowls over noodles.