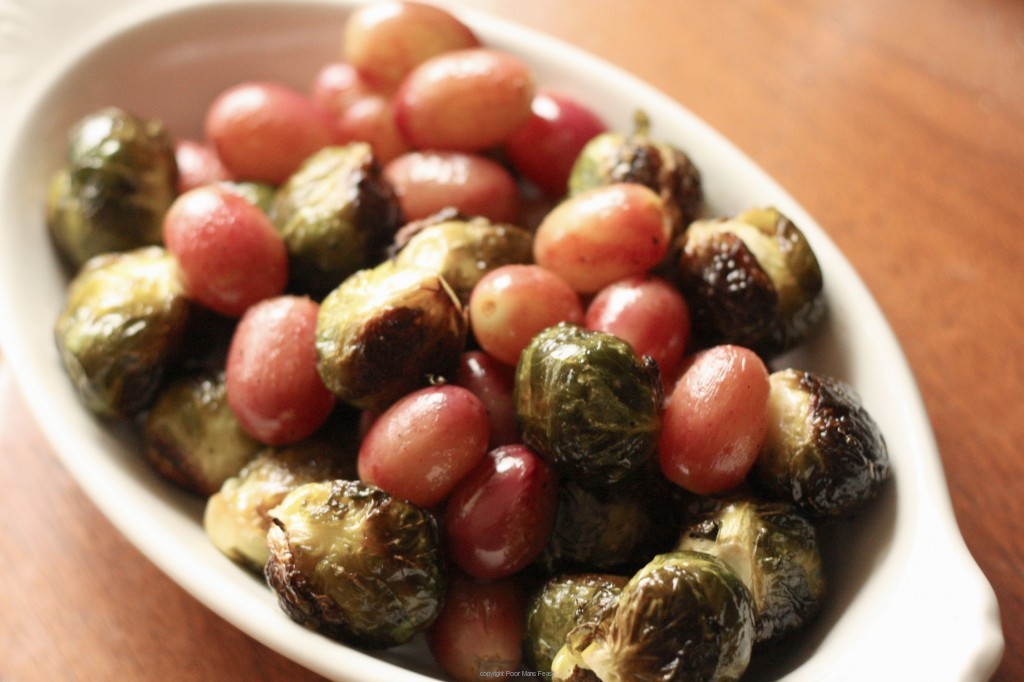 A few weeks ago, Susan and I were down in Florida visiting my cousins, as we often are over Thanksgiving. On Wednesday, I squirreled myself away for a long, call-in phone interview with the folks over at Wisconsin Public Radio; people phoned in from all over the northern midwest wanting answers to everything from how to shake up lentil nut loaf (I was kind) to how to brine a pre-brined turkey (don't). The number of vegetarians and vegans who called was astonishing, and for the first time ever, no one asked anything about leftovers. The conversation eventually led to a discussion about my favorite vegetable dish, and when I described it, I could hear a long, cavernous echo coming from that great freezing land of beer, badgers, and brats.
Brussels sprouts and grapes? the host repeated, incredulous.
Yes, I said. It's sweet and savory; the grapes release their delicious sugars as they cook, which in turn caramelize the sprouts. You can eat it hot, cold, or at room temperature. You can add anything to it, within reason: toasted walnuts, pine nuts, spicy pepitas, lardons, whole garlic cloves, fresh thyme or rosemary, sea salt. Or nothing at all, which is generally how I like it.
And then people started calling in to ask for the recipe, and I realized that, while I've often spoken of the dish, I've only infrequently provided a recipe for it, or any inkling into its provenance.
I was never much of a Brussels sprouts fan; the idea of them conjured up memories of sitting in my sleepaway camp dining room as both a camper, and then, a counselor, and having them whiz past my head after being hurled like a small boulder from a trebuchet. Years later, when I was studying in England, they were presented to me cloaked in a sort of grayish grease, having been boiled in water for what must have been days. Or months. A little while after I came home to New York, I was having dinner with my mother at a very trendy restaurant on the Upper West Side, and there were Brussels sprouts leaves strewn about the plate, but no sign of the sprouts themselves. Eventually, I read Laurie Colwin's Home Cooking, and took note of the part where she says she sometimes makes marinated Brussels sprouts for the Christmas holidays; I trust her completely, so I gave it a shot. And lo and behold, I discovered that I not only liked them. I loved them.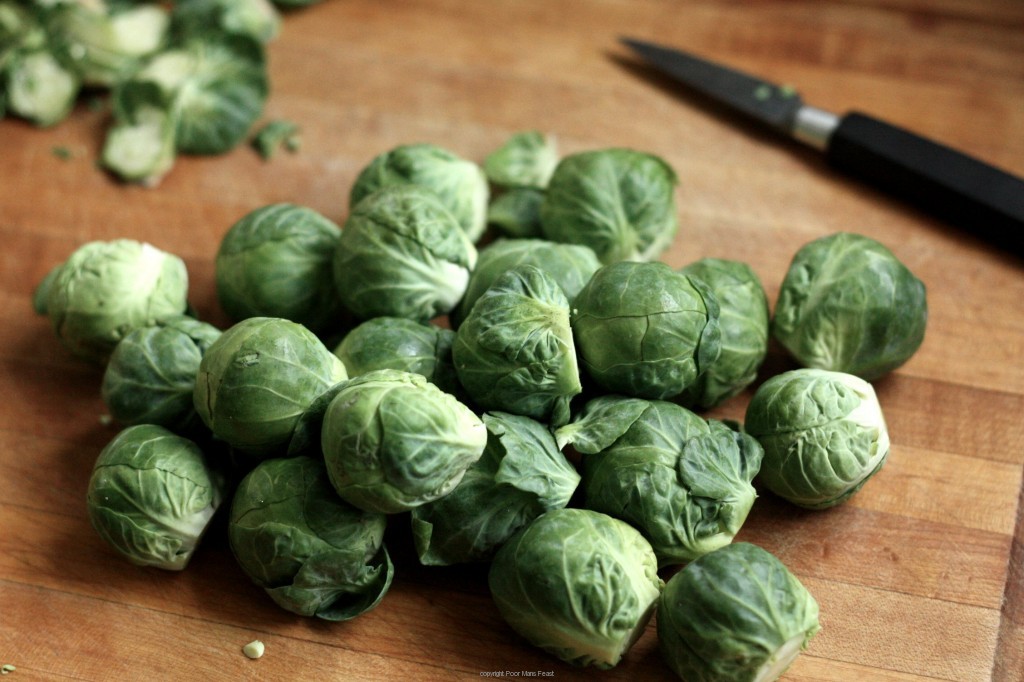 A few years ago, I was driving around my neighborhood, running errands, when I heard a restaurateur on NPR talking about roasting Brussels sprouts together with grapes. The host was mystified, but so enamored of the dish was the guest that I pulled into my local market and bought a pound of sprouts and a bunch of grapes, and headed home to make them. No recipe had been given, so I had at it: I tossed the sprouts in a cast iron pan (cast iron is key) with a few dribbles of olive oil, a pinch of salt, and a bit of pepper. I gave the pan a shake, and then popped it into a hot oven. Once the sprouts turned bright green, I added a handful of red seedless grapes. I gave the pan another shake, and put it back in the oven until the grapes softened and the sprouts were knife-tender and caramelized. It was easy and delicious. And just a little bit surprising.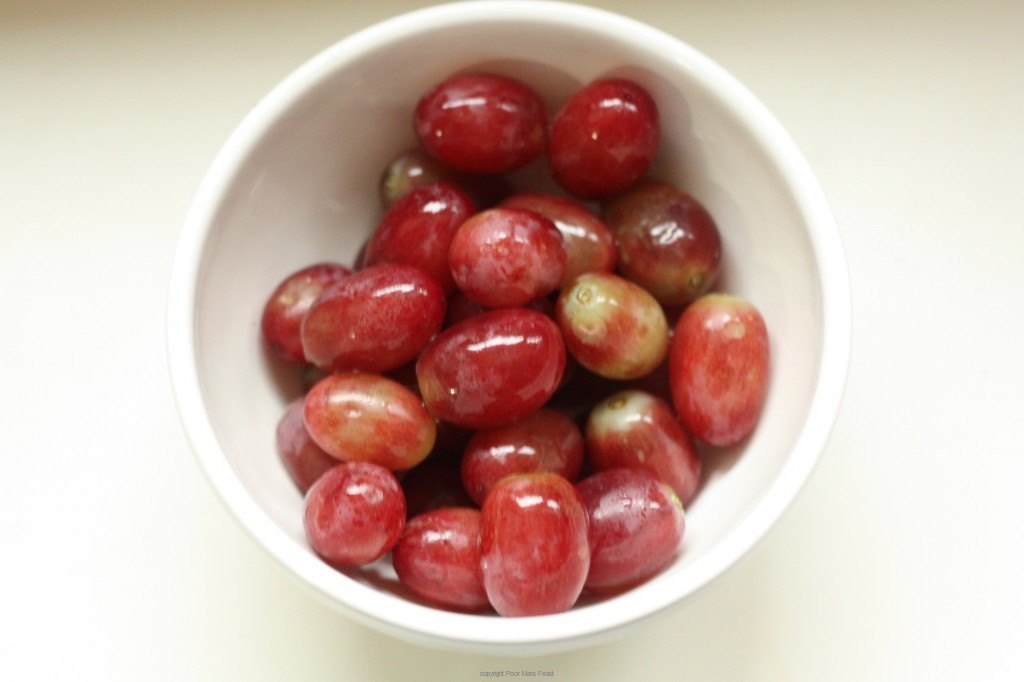 Over the years, I've tweaked the recipe: if the Brussels sprouts are big (or if time is a concern), simply slice them in half. Add herbs, or not. Or nuts, or not. Add tiny, cubed, crisp lardons. Or not. Drizzle it with a light splash of red wine vinegar, and serve it at room temperature with a wedge of earthy sheep's milk cheese like Sardo di Pecora. I've even cooked the dish in a metal basket on the grill, alongside a steak. The direct-fire method results in a bit more charring, but the dish is still delicious.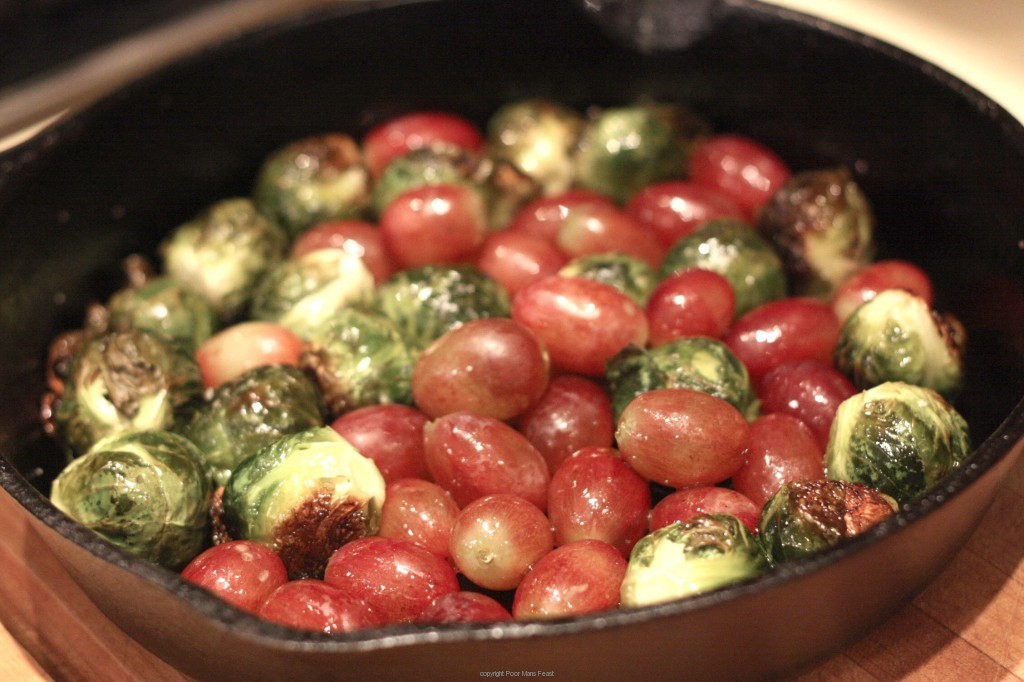 However you make it and in whatever proportions, bear in mind the balance of sweet to salty/savory, and keep an eye on the pan as your guests begin to arrive. Shake it frequently to keep things roasting evenly, and when it's time to eat, bring the pan directly to the table. Even Brussels sprouts naysayers will fall in love; they will likely be found in the middle of the night, eating the leftovers directly out of the fridge.
At least in my house.
Brussels Sprouts and Grapes
I've been making this dish for years, and always to various levels of bemusement and scoffing, until my guests tuck in. If you're able to find very young, tiny Brussels sprouts, add grapes with a lighter hand, otherwise you'll wind up obscuring the fresh, grassy flavor that make baby sprouts so wonderful. Forget about slicing an X in the bottom of your sprouts; in this dish, there's no need for it.
Serves 4
1 pound Brussels sprouts, tough outer leaves and stem removed
1 tablespoon Extra virgin olive oil
1/4 teaspoon sea salt
freshly ground black pepper, to taste
1/4 pound red seedless grapes (not Globe)
Optional: fresh thyme sprigs, fresh rosemary sprigs, whole peeled garlic cloves, toasted walnuts/spicy pepitas/toasted pine nuts, lardons
Preheat oven to 375 degrees F.
Place the sprouts in a large cast iron pan and drizzle with oil, shaking the pan to lightly coat them. Sprinkle with salt and pepper, and give the pan another shake. Place the pan on the middle rack in the oven and roast, shaking every once in a while, for twenty minutes.
Add the grapes to the pan, place it back in the oven, and continue to roast for another ten minutes, shaking frequently, until the grapes have softened and their skins wrinkle, and the sprouts are knife tender. Serve immediately, or at room temperature.
ADD-ONS NOTE:
If you are adding nuts to this dish, add them five minutes before removing the pan from the oven.
If you are adding thyme or rosemary, add it to the sprouts after the first pan shake.
If you are adding whole garlic cloves, add it to the sprouts after the first pan shake.
If you are adding lardons, you can either:
1- Cook the lardons separately, drain off the fat, and add them when you add the grapes. Or,
2 – Cook the lardons in the cast iron pan, remove them to a bowl, drain off all but one tablespoon of the fat and then add the sprouts to the remaining fat in the pan, and continue with the recipe. Add the cooked lardons as above.