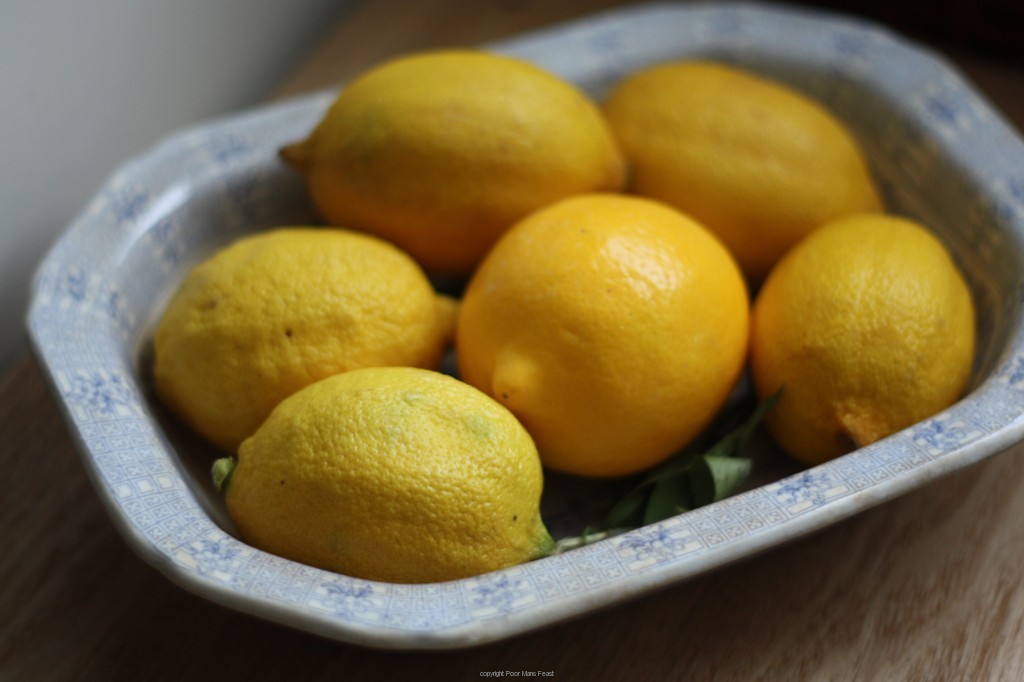 There comes a point in every local food-loving New Englander's life when, during the dark snowy days of mid-winter, she puts her hands on her hips, stamps her feet, and says If I eat one more freaking turnip, I'm going to throw up. 
I am officially at that point.
This generally happens to me towards the end of January, so it's not like I should be surprised or anything. Still, as someone who believes in local, seasonal eating (as much as I can, living in western Connecticut), I wind up feeling guilty for even thinking about my favorite wintertime flavor — lemon — when by the fact of my geography, I should be hunkered down over my seven quart Creuset while it burbles away on the back of the stove, filled with the brownish, earthy murkiness of the season.
"It's Meyer Lemon season here!" my California friends wrote to me the other day. "We have so many of them, we just don't know what to do with them all!"
I know what you can do with them all, I thought, gazing virtuously out the window at our stone garden Buddha, buried under eight inches of snow.
"Well," I wrote back to her, "if you have to live every day with the knowledge that your city might slip into the bay at any moment, you might as well have the best Meyer Lemons in the world. After all, you have to have something."
And suddenly, just like that — just like it was God's little joke — they started showing up everywhere I looked: shrink-wrapped in my supermarket. (I will not buy shrink-wrapped produce. Not. Not. Not.) In the San Francisco Chronicle (which I read on line every day, so I can feel like I'm right there even if I'm on the other side of the country). All over the bloody blogosphere. All over the little food television I actually watch. I finally threw in the towel when I clicked over to 101Cookbooks.com and found Heidi Swanson in the throes of a citrus takeover of her kitchen.
"I'm not kidding when I tell you it looks like a citrus orchard shook out its limbs in my kitchen," she wrote in her most recent post.
I'm stuck here in root vegetable hell, so just shut up, Heidi, I wanted to say. But I didn't. I really like Heidi. I took it as a sign: I needed to give myself a break. In the depths of winter, I needed to be kind to myself. So I drove to my local healthy foods market, bought myself some Meyer Lemons that had been shipped over from the other side of the country, and smugly drove home. Between the .75 metric tons of carbon dioxide it took to fly the damned things here and the gallon and a half of gas it took my Subaru to get to the store and home again, I was feeling fairly guilty. The small package of mint and bag of frozen organic peas I bought to go with them didn't help.
But when it gets to be this time of year and you don't live anywhere near Berkeley and you're drowning in turnips and rutabagas and those cute little acorn squash you managed to grow last summer before the hurricane wiped out your garden, and it's freezing and snowing and the days are short and all you can think about is spring, you need a little brightness and spark and zip in your culinary life. At least I do. A few hours after coming home from my shopping trip, I was standing in the kitchen making barley risotto with a significant splash of the sweet lemon juice, a good amount of zest, chopped fresh mint, a handful of peas, and a crumbling of good sheep's milk feta.
And just for a little while, it felt ever so slightly like spring.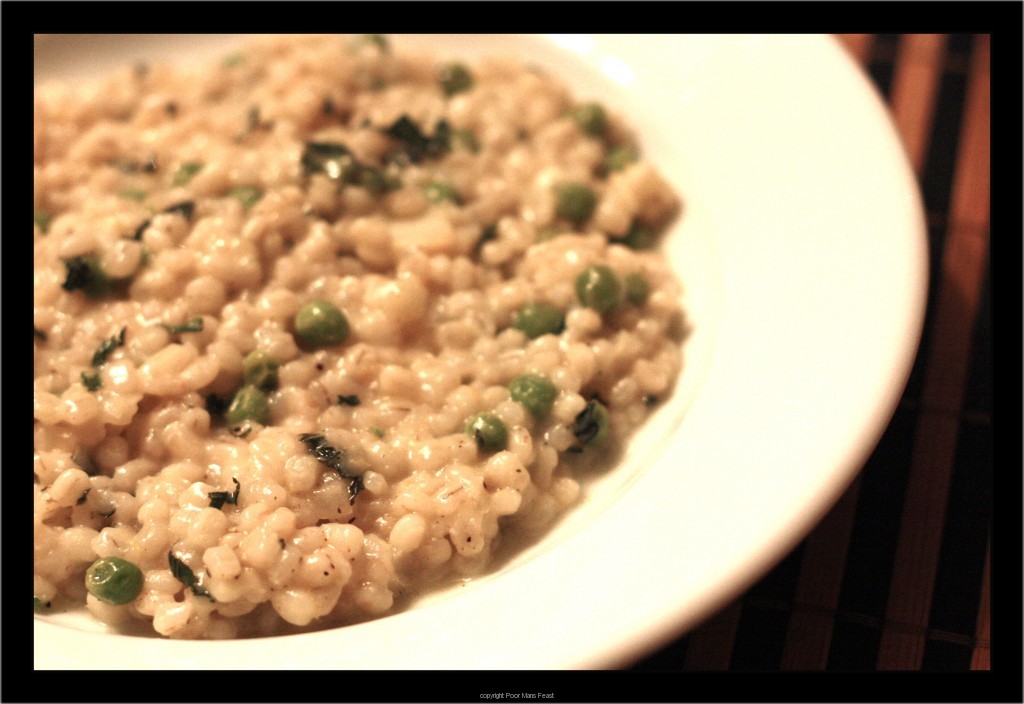 Barley Risotto with Meyer Lemon, Peas, and Feta
Adapted from Deborah Madison's Vegetarian Cooking for Everyone
I don't know why it took me so long, but it wasn't until years ago, when I came upon Amanda Hesser's sloshy pappardelle with lemon, ricotta salata, and herbs in Cooking with Mr. Latte that I really fell in love with the idea of combining pasta with lemon, cheese, and herbs. Oddly enough, I'd been making an unofficial version of it for years in my tiny Manhattan apartment kitchen — it almost always involved bare cupboards and the kind of after-midnight, carb-laden cooking necessitated by too much youthful imbibing — but I wouldn't have dared make it for anyone else. Fast forward twelve years, and the combination is one of my favorites: Meyer lemon, because of its sweetness, works beautifully with so many herbs and types of cheese — thyme, rosemary, mint, marjoram, pecorino, feta, Parmigiana Reggiano, chevre — that the possibilities are endless. In this version, I've married the flavors to Deborah Madison's wonderfully earthy barley risotto; farro would work beautifully, too. (Note: Because of the salt in the stock and the salty feta, I've omitted any additional salt.)
Serves 4
4-1/2 cups vegetable stock (I prefer Rapunzel Vegetable Stock with Sea Salt)
1 tablespoon extra virgin olive oil
1/2 cup finely diced onion
1 garlic clove, minced
1 cup pearl barley
2 tablespoons fresh Meyer Lemon juice
1 tablespoon unsalted butter
3/4 cup frozen peas
1 tablespoon Meyer Lemon zest, minced
1/4 cup finely chopped fresh mint leaves
1/2 cup crumbled feta plus more for serving
In a medium saucepan, bring the stock to a slow simmer. Heat the oil in a large, straight-sided, deep saute pan set over medium heat. Add the onion and garlic and cook until barely translucent. Add the barley to the pan, stir well to coat the grains with oil.
Add about a cup of the stock and continue to stir until it's nearly absorbed. Continue to add about a half a cup of stock at a time, stirring constantly and waiting for each addition to be almost absorbed before adding more. The risotto is done when the barley is tender and the dish is creamy. Fold in the lemon juice and the butter, and then add the peas, stirring well to combine (the heat from the dish will cook the peas).
Stir in the zest, the mint, and the feta and let rest for five minutes before serving, topped with more crumbled feta.