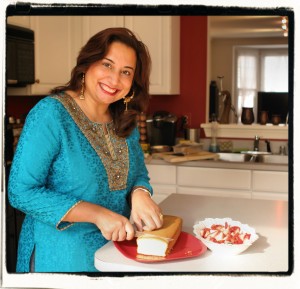 The first time I ate Indian food was at a restaurant right off George Square in Glasgow, Scotland. It was ten o'clock at night, my server spoke with a brogue that was straight out of Her Majesty, Mrs. Brown, and the vindaloo that was set down before me was incendiary enough to clear my sinuses for the next five years. It was a bumpy introduction. But somewhere, somehow, Indian food and I became very, very dear friends.
Still, I used to be terrified by the idea of preparing Indian food in my own home: the miles of spices, the careful and laborious folding of dough around a stuffing that when fried becomes chaat; the closet shelves buckling under the weight of forty pound mortar and pestles; and let's not forget the eye-tearing chiles that could render a Pittsburgh Steeler's fullback a puddle of weeping manhood before you could say pass the papadum.
Anyway, nothing could be further from the truth (at least where the miles of spices and the inherent difficulties surrounding the preparation of many of the dishes are concerned), of course, and over recent years, I've welcomed into my home scores of Indian cookery books, and created voluminous, multi-course Indian meals—vegetarian and not—no matter the season. And while there are a lot of great books out there (start with Suvir Saran's Indian Home Cooking and then graduate to the classic, vegetarian, 1000-page Lord Krishna's Cuisine by Yamuna Devi), the one that I've been turning to repeatedly these days is Monica Bhide's Modern Spice: Inspired Flavors for the Contemporary Kitchen. Simple, clear, elegant, and delicious, these recipes reflect the life and work of a real person: not a restaurant chef, Bhide is a Washington D.C. area-based mother to two young boys; a wife; a double masters degree-holder in information systems from G.W.U. and Industrial Systems from Lynchburg College; and a devoted, passionate recipe creator, storyteller, teacher, and food professional who has hung out with Jose Andres in Washington DC, and Imtiaz Querishi in Mumbai.
If you want to demystify Indian food and at the same time understand how—with crazy busy schedules and an active family life—it's possible to put remarkable Indian food on the table every night of the week, acquaint yourself with Monica Bhide the way I have. We spoke recently about Indian food and its place in her home.
As with many other ethnic foods, in this country we tend to have seriously preconceived notions about what Indian food is; in Modern Spice, you have blown the lid off the belief that Indian food is comprised of generically spice-laden curry; takes forever to prepare; and is culinarily complicated. The book seems to be a clear mirror into the way you, a working author, wife, and mother of two young boys, cook on any given day. Walks us through a weeknight dinner in your kitchen.
So very true. I remember several years ago, I called a few friends in the morning and invited them over for an impromptu dinner party that night. They were all stunned when I served them a multi-course meal at such short notice. NO, I am not a gourmet cook, I don't have help in the kitchen and by no means am I that accomplished as a cook that I can pull off miracles. But what I do know is how to use ingredients and combine them in a way that brings out their best side and also doesn't take me all of Sunday to do it. You know, I recently wrote an essay focusing on the question: "Does a recipe need to be complicated to be good?" and this to me is what some people think is the truth.  If they don't work hard all day and really make a huge effort in the kitchen, they believe what they produce will not taste good. Nothing is further from the truth: good cooking, of any style or any ethnicity, is all about learning how to understand and totally fall in love with your ingredients and knowing that in turn, they will reward you well. This, I promise.
As for a weeknight in my house: I will be making a simple sauté of vegetables using the best of the last few days of summer, spiced with ginger and cumin along with a large bowl of brown rice with baby peas and and a salad of diced mangoes, cucumbers, red onions and cilantro.  Simple dinner, perfect for our small family and very easy to do.
Reading Modern Spice, one gets the sense that you are the embodiment of the ethno-culinary melting pot: you were born in India and raised Hindu, you grew up in the Muslim Emirates, and you now live in Virginia, all of which must inform the way you cook, and think about food. How does this manifest itself in your kitchen? Are your children aware of it, or is it "just the way Mom cooks?"
I think I am permanently damaging my kids ideas of what is actually true Indian food!  Pomegranate molasses, which I loved in the Middle East, show up in my Indian eggplant dishes, Vermont Maple syrup is my pal when I make Indian spiced ginger shrimp and of course, in our house lasagna is always flavored with the new spice mix of the day!
One of the things that I absolutely loved about Modern Spice was the story that opens the introduction; there's a famous Talmudic parable that is virtually identical, thus confirming my belief that we're all far more alike than we could possibly know. Your story sings loudly of the way culinary home traditions are created and how they evolve—in a practically mythic way. And regardless of background, this seems to be a universal truth. How has your cooking evolved to both honor your own traditions while remaining playfully modern?
Don't you love that story! For your readers, if they want to know what we are talking about, here it is:
A husband says to his wife, "Honey, I love the way you bake ham. But why do you cut the end off? That is my most favorite part."

"My mother cooks it this way," she replies. "It's tradition."

Later she calls her mother. "Mom, why do we cut the end off the ham?"

The mother does not know. She calls her mother-in-law, from whom she learned the recipe.

"Why do we cut the ends off, Mama?"

"Ah, that," says the 100-year-old mother-in-law. "When I first cooked a ham, I didn't have a pan big enough."
I love this story — just because we have always done things in one way, it does not make it the only way to do something. So if fennel- and-chile-crusted tilapia and basmati rice with pine nuts and mint, accompanied by a Guava Bellini, does not sound Indian to you, think again! Indian food has come a long way from the same old, same old world of mango lassis and tandoori chicken.
I think what I provide in my recipes is high flavor combined with simplicity in preparation. My traditional upbringing and knowledge of Indian cuisine and spices has given me the tools to create the high flavor part and my background as an engineer, a mom and lazy cook has helped me create great simplicity in my recipes. Why do things the hard way?
There were certain things in Modern Spice that surprised me, including remarkable recipes for alcohol-based drinks, and several mouthwatering beef dishes. What is Indian cooking today, and how has it changed?
When I was studying engineering in India, for years I lived with nuns in a convent (no I wasn't planning on becoming a nun; they just offered housing for students!). My point is this: guess what I ate for dinner everynight at this convent in India? Yes, beef. And fish on Fridays. Indian cuisine is so diverse, truly, it is hard to put boundaries around it!
And yes, while there are many Indians who don't drink, there are many who do! Wine is making a big splash in India now and there are bars all over in major cities. In fact, in a couple of weeks I am hosting an Indian wine tasting at my home of a wine maker from India who is bringing his wine's to the US!
Now come the boy questions: tell me about your boys—husband included!—and what their favorite Monica dishes are. What are the family traditions that you've created in your own home, specifically for these men in your life?
I have two little guys: Jai is 11 and Arjun is 3 (going on 21) and of course, the love of my life, my hubby. They love to be in the kitchen with me but mostly to chat and help with cleanup etc ( meaning they cook when they feel like it but mostly like to be together with me.. which I love). Our kitchen is really the heart of our house. They love to try all my experiments. But I think their favs are a spicy fish curry, oven-roasted cauliflower, butter chicken and of course, rice pudding. Our traditions around food are also very simple. Each week we pick a day dedicated to one member of the family and I cook what they love (since many of the days I am testing recipes and they have to eat what I make!)
I don't have a lot of pomp and ceremony around food in the house. We are much more about loving what we eat, respecting that it is on our table and spending time together.
About eight or so months ago, you sent me a food writer's dream gift: a spice blend that is unavailable in the United States. We use it constantly—on eggs, on potatoes, on poultry, on fish—and I'm certain that had I seen it in a store, I would have walked right by it, not knowing what it was.  What recommendations do you have for neophyte Indian food lovers who want to experiment with the unfamiliar? Where do we start?
Ah! Have no fear. That is my only advice. What is life without a little risk and adding adventure to your palate is such a simple risk to take and it can yield such amazing rewards.  Besides, if something tastes bad, don't eat it again and try something new. When people ask me what my favorite ingredient is or dish is, I always say that I haven't found it yet. I am still looking. What an adventure!
Quick question: sweet, or savoury?
Depends on the time of day. 😉
In the publishing community, many believe that a food-related book has to be stuck in one form or another: memoir, or straight, practical, "get in, get out," cookbook. But food, I think, is always representative of memory. Modern Spice plaits together these two forms brilliantly, but as an editor, I think I see a memoir in your future. Am I right?  What is next?
Thank you for your kind words.
As for a memoir, someday, I would love to! Right now I am working on a proposal about personal stories and spices!
We can't wait for it, Monica. Thanks so much for talking to Poor Man's Feast today.